Black Lotus Brings Los Santos Together For Community Blood Drive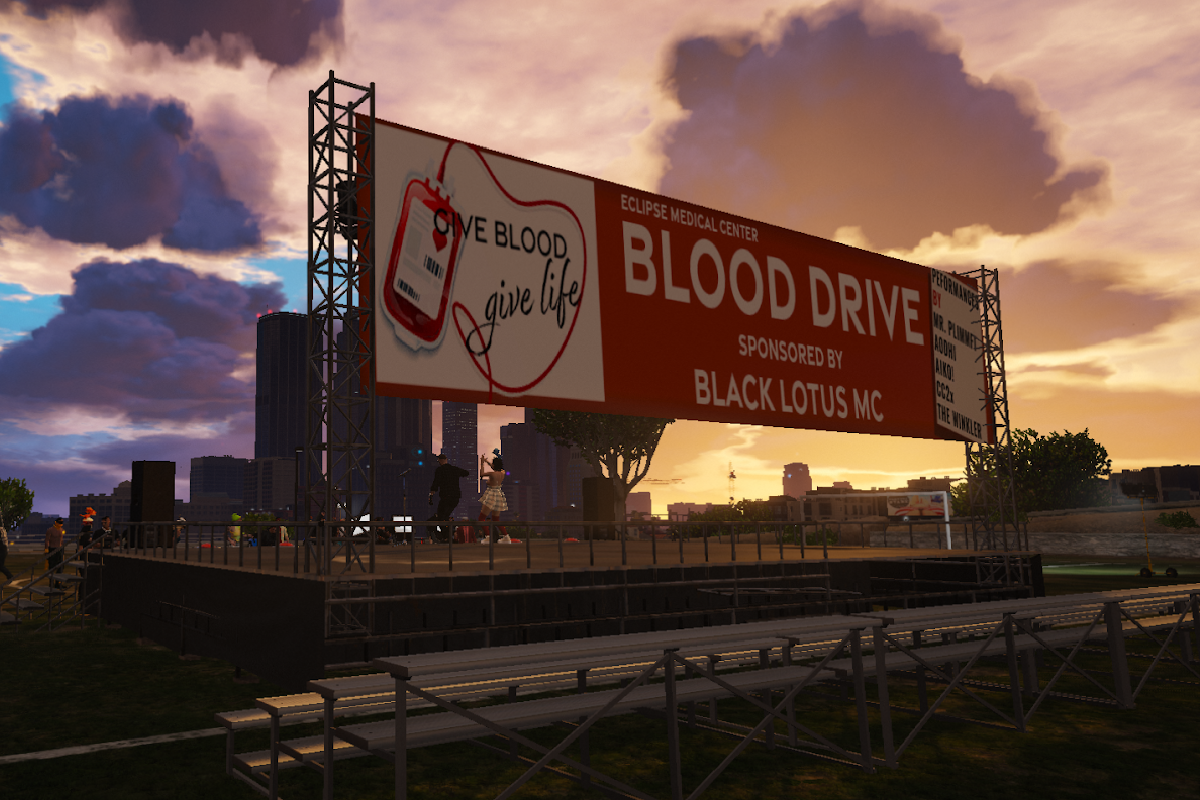 Los Santos, Mirror Park – While it may be a well-known fact that San Andreas has a notoriously high crime rate, no city comes closer to being community-driven than Los Santos. Last week, August 20th, the local motorcycle club, Black Lotus teamed up with Eclipse Medical Center and Kokoro in an attempt to fully restock the hospitals' blood supply. With over 12,000 units of blood donated, about a full bloodmobile, the event was an overall success.
Rosalind "Roz" Mercer and Marcus Corvus, Black Lotus members, coordinated the event after being prompted by their President Larry Tate to think of a community project. They ultimately decided on a blood drive after recalling the success of their last blood drive nine months prior.
"Last year we did it during a time where there was a lot of just.. shootouts happening in this city, and we feel like it's happening again. So we thought the hospital could use some help. I knew we wanted to do it at some point again, after the last one, but he wanted to do it better," Rosalind said. "I figured Kokoro in specific has been pretty big lately in the city, so we decided to utilize music to draw people here. Who doesn't like hanging out with a good concert?"
Photo Credit: Charles Plimmft
Kokoro's CEO Aiko Arakawa was present at the event, along with several other rising music artists; Mr Plimmft, The Winkler, Mykie Whey, Aodhi, and CC2x. They arrived before the event and, according to Mercer, were nothing short of excellent at coordinating alongside Black Lotus MC to help draw in more donors to the event.
"I was specifically working with Aiko, and she's an absolute joy to be around. They got here early, they were nothing but nice, they were very good at communication beforehand – we originally only had one and then I reached out at the off-chance they could do something a bit last minute, and they got it together so quickly. The enthusiasm of Aiko is just very contagious, it definitely spread to the crowd during the performances," said Rosalind Mercer.
"I think it went really well, and it was a lot of fun, and everyone seemed really happy in the crowd. There were SO many people donating blood. Literally, I didn't even get a chance. The van got so full it left before I could even go over to give my blood," said Aiko Arakawa.
Besides entertainment, Black Lotus MC and Eclipse had water and food readily available for all blood donors. Local business Cream Pies, for example, was there to provide baked goods.
Designated "waterboys" also wore hydration packs and water cans to keep themselves and others hydrated at all times.
Experienced doctors, nurses, and emergency medical technicians (EMTs) were also at their disposal and were able to discreetly ensure the safety of all donors. A drawing may have gone something like this:
First, they'll identify who you are and whether or not you have any underlying medical conditions. This might've not been mandatory for everyone as blood and plasma can be tested later to prevent bloodborne diseases, like HIV, from spreading.
Second, your arm will be cleansed with a swab. A tourniquet may, based on who you're working with, be provided for you. This would simply make it easier for the person drawing blood to find a vein.
Once a vein is found, a sterile needle will be inserted into your arm. A pint of blood will then be drawn, which typically takes about 7-10 minutes to do. Once a pint is drawn, a doctor will typically have you sit or stay nearby for the next ten minutes before you're allowed to return to your daily life.
Refreshments and snacks are typically also given and you're sent on your way.
Overall, the turnout for the event was reportedly said to be double the size of the last blood drive.
The success of this blood drive has Black Lotus MC considering doing this again, but at this time there are no plans to make it annual. That doesn't mean, however, that they won't be planning other things.
"It is definitely something we'll do more often. We've done things in the past, like organizing public rides, which we call it, where we've actually driven around the city giving the homeless people clothes. Doing a blood drive on the road is probably not the best idea, but we'll definitely have more things coming up for our community and the hospital and everything," said Larry Tate.