Collectible Havens? Sold Out!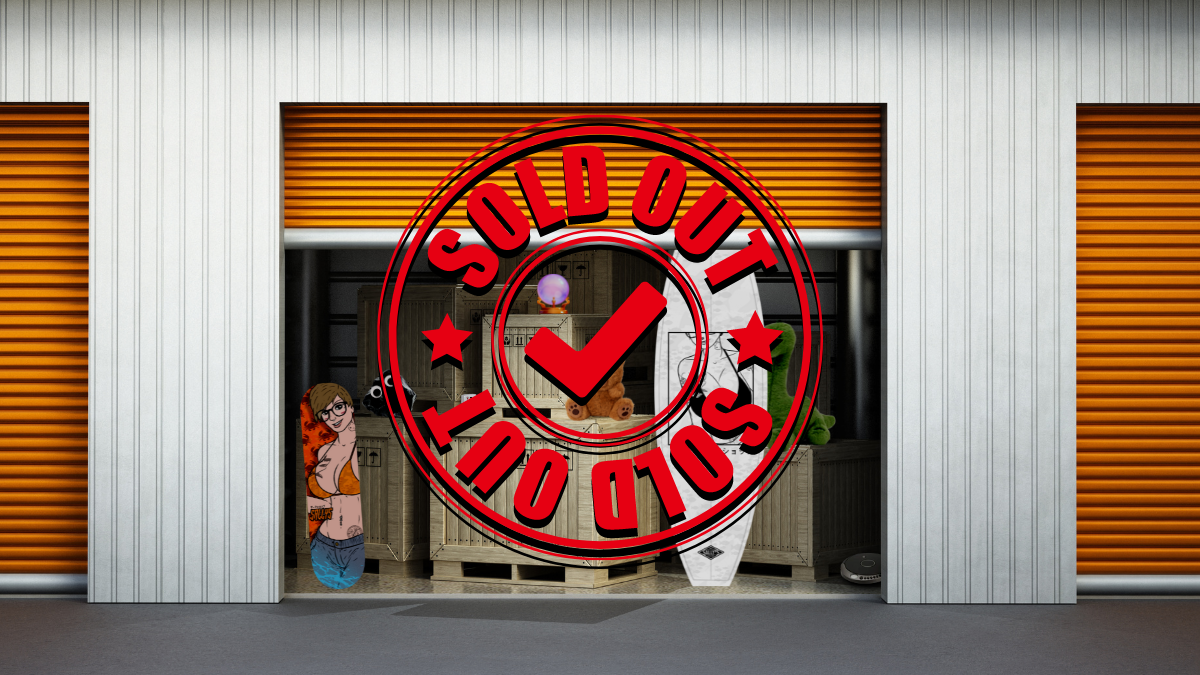 COLLECTIBLES! Who's got the rarest? Who's got the coolest? Who's got the one that vibrates so loudly that it sounds like it's coming from inside your brain? Who's got the one that makes them look like a badass "last living samurai from that one Tom Cruise movie"?
Collectibles are all the rave in San Andreas – It seems like everybody's got a ton! They come in all sorts of shapes and sizes, and all sorts of businesses have 'em – But with all those collectibles, where do people put them all? Good question! A lot of collectors turn to places like Lock & Key Annex or Vinewood Self-Storage to have a safe and convenient place to contain their massively valuable collections for reasonable prices. But recently, tragedy has struck at both of these locations: All units are sold out.
With collectors unable to rent a secure storage unit to protect their precious belongings and Adam Reese successfully beheading the last motel owner standing in San Andreas after a weeks-long manhunt, they were left with only one choice: apartments. Simple, easy, convenient, and even comes with a bed (perfect for hiding collectibles underneath)! We spoke to one such collector who pursued this option and met them at their apartment.
The Ferret Files (TFF): So, how many collectibles would you say you have?
Collector: Probably a couple thousand, at this point. I think I have like, a couple dozen of these. (As they walk past their couch, they swipe a handful of the Public Works dinosaurs off the seat.)
TFF: That sounds awesome. What made you want to start collecting?
Collector: I think it started because I wanted to feel like I was rich. People who have tons of collectibles always seem rich, right? When they're completely covered in them? (They adjust their Sally's Surf Shop skateboard on their back, as well as the two Hardcore Comic Store Monster Menagerie figures on each shoulder.)
TFF: That makes sense, I can completely agree with that. What was, if you remember, the first collectible you got?
Collector: It was… Hmmm… (As they walk into their kitchen to start cooking, they open a cabinet to reveal that all of the contents had been replaced with their Shadowegg duplicates.) Oh, that's where I put those. Right, the first collectible – Probably my Shadowcade Black Saya. It makes me look so edgy and cool, I love it.
TFF: Hell yeah. Do you think using your apartment for collectible storage is a suitable replacement for a storage unit since all the storage units are sold out?
Collector: I mean, I haven't had any problems yet. It's pretty cozy here. (They trudge through piles of RyRy Trading Card Pack wrappers on their way back to the couch, where they grab their Dolores Body Pillow and settle in to spend some time admiring their super-rare Ry Ry Shadowegg figure.)
TFF: And if storage units open up, do you think you'll still stay here? Or move to a storage unit?
Collector: God no, this place is great! Where else can I wear my collectible Brandon Davis pajamas in peace?!
There was nothing more I needed to hear as I waded through an ocean of Public Works plumbobs. If even the most obsessive collector chooses an apartment over a storage unit, surely it must be the better option!
The Ferret Files and other satire articles on this site are entirely works of fiction. Such articles are a source of parody, satire, and humor and are for entertainment only. All news articles tagged as "Satire" are works of fiction. Any truth or facts contained in news stories or posts with this tag are purely incidental or coincidental and are not intended to be, or be, construed as facts.