Bevans Garvey Disputes Governor's Office On Reward, Increases To $2 Million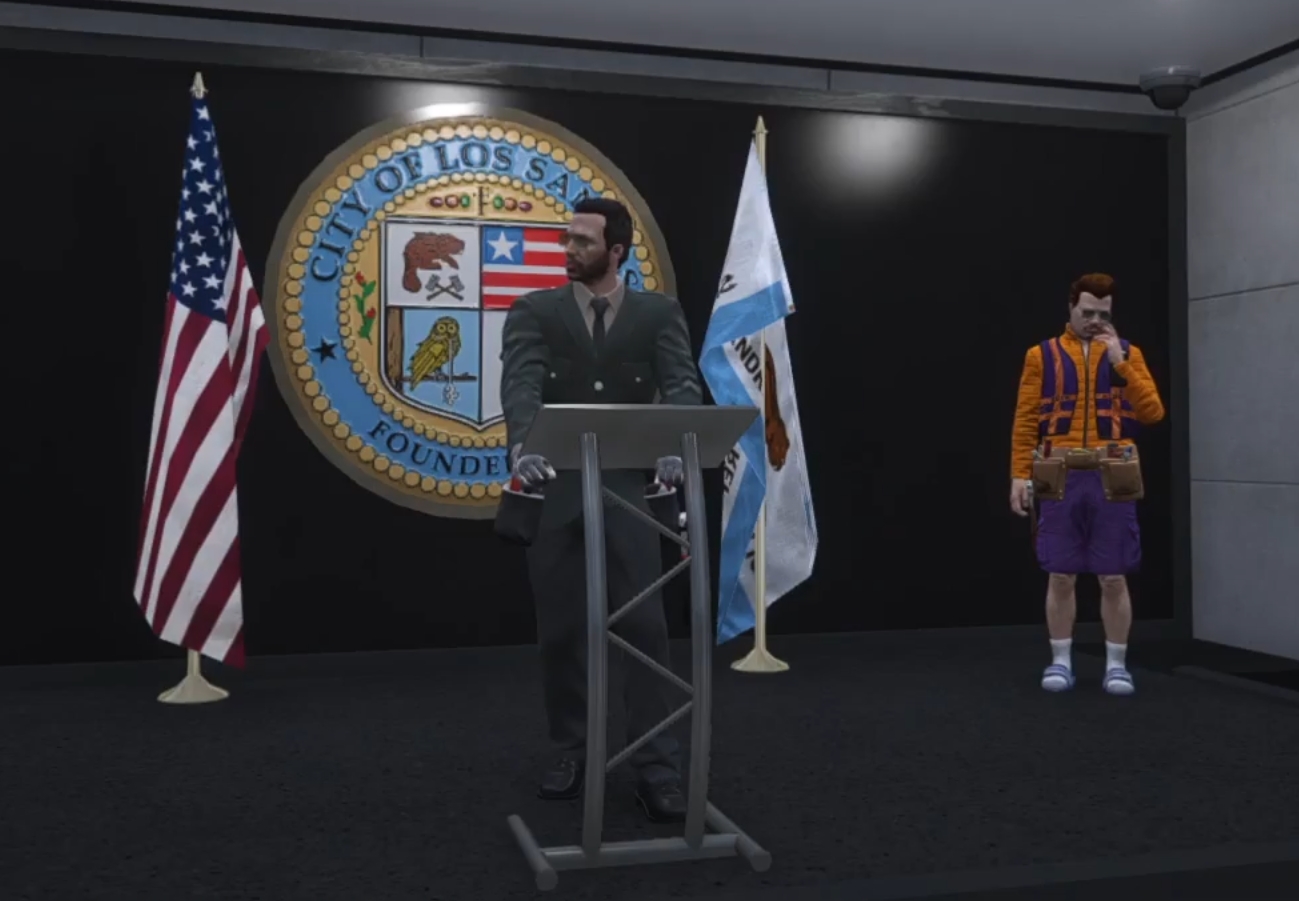 Los Santos, San Andreas – Today, Bevans Garvey held another official Town Hall on behalf of Public Works, a follow up to his press conference two nights ago where he announced a $1 million reward for the return of Sally Fleur aka "Polar Bear", dead or alive. As noted in our previous coverage, Secretary of State Wyatt Diaz released a statement to the press the next morning denouncing the reward on behalf of the Governor's Office and Public Works "lead foreman" Hudson Chesterfield. After an opening performance by the department's own "Copperhead" and a reading by "Cockatoo", Mr. Garvey gave a statement in response to his government colleagues.
"The reward for the safety of "Polar Bear", Sally Fleur, is very much still active. I had one of these tapes verified by a San Andreas State Trooper, and it was in fact Ray Fritz and Polar Bear's voice, but there was a third unknown voice that we believe to be an accomplice. If the Governor's Office has a problem with that, I would just say to Wyatt Diaz that if I wanted your opinion, I would ask Ramses Thompson because you're a puppet.

Other than that, the $1 million reward from Public Works is in fact from Public Works; I am just the messenger. We have gathered funds to show how seriously we take this and how little stock we put in the Governor's opinion. We have increase the reward to $2 million because money means nothing when compared to a life.

In the briefing, it says, and I quote, 'Any reward offered by Mr. Garvey is from his own funds and is not affiliate with any government entity.' This is false, simply not true. Hudson Chesterfield, also mislabeled in his title, said that the reward is from myself and not Public Works, but let me make this clear to everyone listening: I am Public Works, ok? So, any reward for Polar Bear, her return, or this guy's identity, will be from your friendly neighborhood 211, which is a government entity, like it or not."

Bevans Garvey, Public Works
As our readers can see from the statement above, Mr. Garvey not only contests the release from Secretary Diaz, he reaffirmed that Public Works is in fact sponsoring this reward with government funds and has doubled the reward to two million dollars. He also disputes that Mr. Chesterfield is the lead foreman of the agency, claiming in response to an audience question that it is his own title within the department while Hudson is the "director" of Public Works. While clarifying that the director outranks lead foreman, he pointed out that he's the one acting as spokesperson for the agency, while Mr. Chesterfield was nowhere to be seen at the Town Hall.
Bevans made additional statements about law enforcement's Major Crimes Division in a follow up to his calls for public unrest on Friday.
"It also says [in the press release] that 'any leads or tips regarding this case should be sent to MCD'. I would also suggest doing this…if you want nothing to happen, ok? I'm not trying to ask MCD for anything, I gave up on that a long time ago. They are very busy not solving any cases. I don't have faith and neither shall you. But, if you do want to go out there and find MCD, I want you to hurt them…by voicing your opinion on Twitter."

Bevans Garvey, Public Works
When asked by Nick Adams of Conglomerated Television Network whether he was "inciting violence against MCD", Mr. Garvey was quiet, seeming to avoid the question altogether as he called for another question from the audience after pausing for a long period. When pressed for an answer, he said "Don't be ridiculous, I'm not telling these people to take to the streets and spill the blood of cops, alright? I don't want anyone to get hurt, but if it happened…that'd be terrible." He finished the last part of that statement with a chuckle.
Another question posited whether Hudson Chesterfield himself was an accomplice to the murderer Ray Fritz. While Mr. Garvey was quick to dismiss that possibility, he did accuse the Public Works Director of "negligence leading to catastrophe", citing that many of the agency's employees have been targeted or gone missing on his watch.
The press conference closed with another reading by "Cockatoo" before the audience dispersed to receive TerryCoins from the Public Works representatives. Watch the full Town Hall from our Weazel News broadcast, courtesy of Weazel Corp Senior Journalist Erin Murphy: