Taking A Bite Out Of Los Santos: #1 Ari's Deli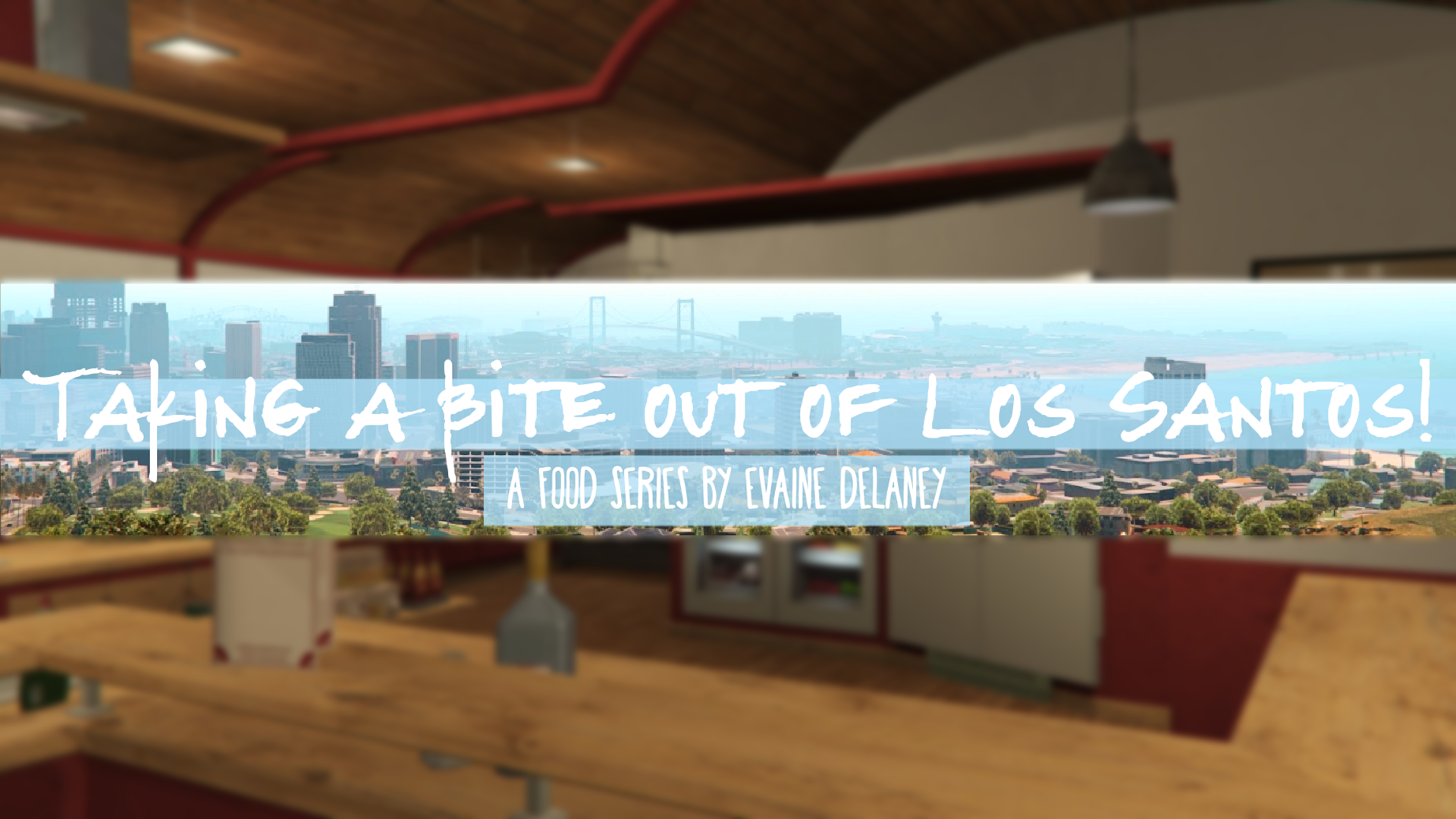 This is the first in a series called "Taking a bite out of Los Santos!" where I shall be going round the city to interview the various and varied places to eat and drink. Reporting it back here on Weazel News.
Interview with Co-Owner of Ari's Deli: Miguel Mackeen-Tod
Is there anything you'd like to say to the people of Los Santos?
"Come on by the deli, we'll get you right and treat you good."
What made you choose the theme of the place that you did?
"The original owner Ari created it and wanted a greek theme due to her heritage so we keep it as a tribute to her as well as her recipes."
Miguel followed by saying he guessed the outer theme of the Deli being in a train cart was a tribute to the last train in the area or perhaps Ari herself just really liked trains. Either way whatever the reason, it sure makes for an interesting place with a whole lot of character.
What brought you to open the place?
"Ari has always loved cooking food, when she first started out she was working out of a mobile van all by herself. Fueled by her passion for both delicious Greek dishes and taking care of the community with as much love as she had to offer."
What is the vibe you are wanting to create?
"You are always welcome, we are hoping to create a small and cosy vibe reminiscent of home. So please come in and chat as I love hearing about people's days. In the spirit of Ari, we shall continue looking after the community as it is at the heart of who we are at Ari's Deli."
It should also be noted that from walking in, you get a warm ambience filled with reds, yellows and the browns of the wooden furnishings. There is soft lighting all around styled with vintage Diner-esque booths. While there is not much in the way of space width wise they make up for it in length. At the head of the train cart there is the counter which you can either stand or sit to order and receive your food and get a mouth watering glimpse into the open plan kitchen at the same time. Appealing to both senses of sight and smell as you await your food and drink.
What made you choose the recipes that you have currently in your menu?
"They were originally created by Ari so we like to keep true to her original recipes while also adding new things to be more diverse and appeal to a wider audience as well."
Miguel also stated afterwards that they are wanting to bring some new greek items back on the menu such as poutine so stay tuned for that Los Santos!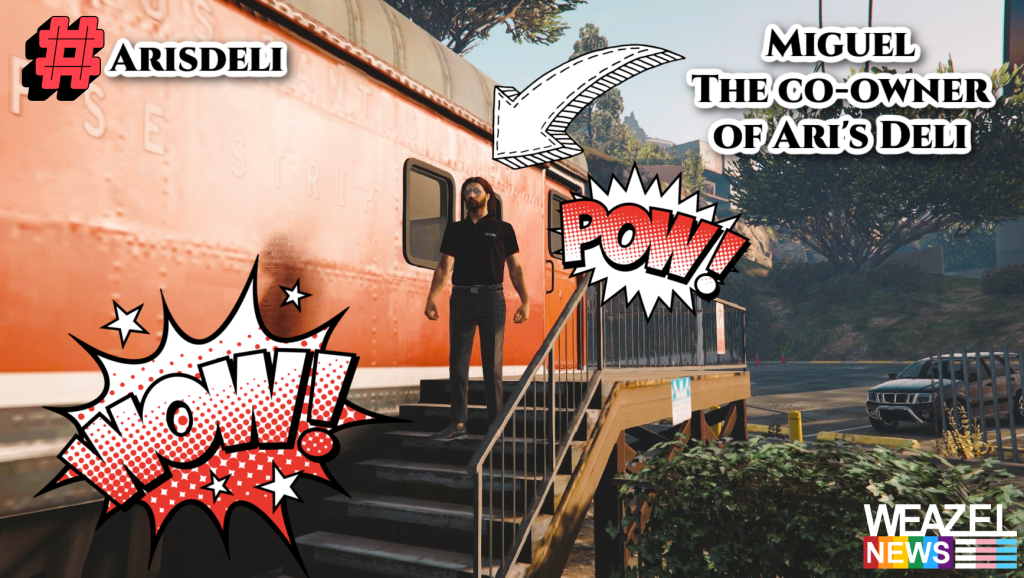 How long has this place been open?
"Over a year."
What brought you to work here?
"The people were very kind and had such positive vibes, I would drive by everyday hoping it was open just so I could come in and hang out. Then they eventually gave me a job as I was around so much and became friends with the people running it. I started all the way at the bottom and worked my way up to where I am now, a Co-Owner."

So it just goes to show with dedication, hard work and a can-do attitude, you truly can take yourself anywhere in life. The only limit is your aspirations.
What is your favourite item on the menu?
"A steak dinner and Vanilla Milkshake extra thicc."
Miguel himself then proceeded to really enunciate the amount of C's in their milkshakes extra thiccness! So if you like it nice and chonky, head down to Ari's for their shaken cow juice.
What is the cheapest item on the menu for those feeling the pinch?
"A Steak dinner or gyro and a bottle of water."
Have you experienced any violence, if so, how much/care to elaborate?
"In the past several people have tried their luck with starting violent or aggressive acts but I run a very tight ship to ensure a safe space is always kept for not only myself and the workers but also our customers."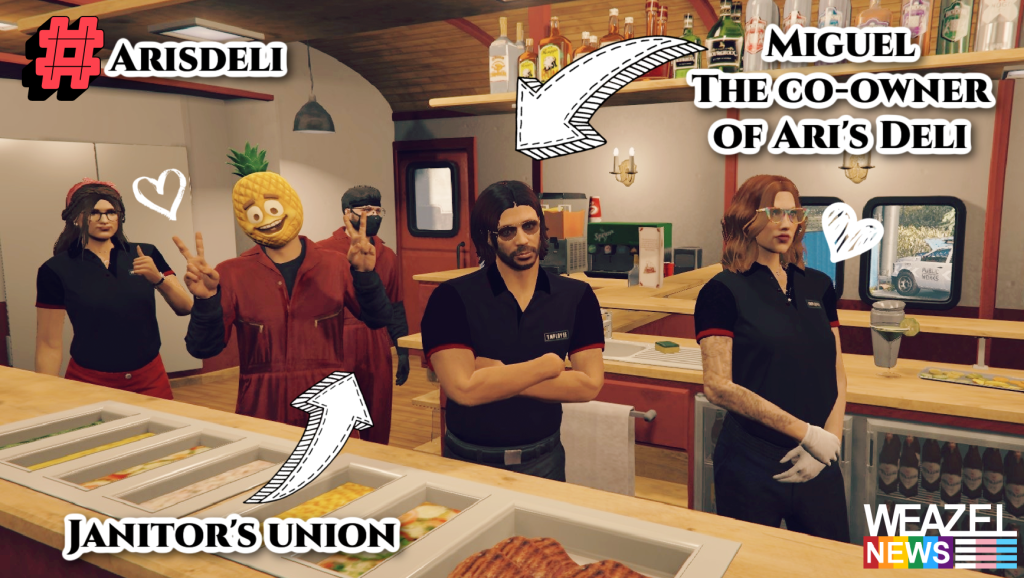 ---
Food Allergy and Dietary Requirements
They try to cater to allergies as best as they can as well as any dietary requirements that you may have but be advised that if it's something very specific, it's best either phoning beforehand to enquire or asking one of the workers at the counter when you arrive.
---
Words from the Workers
From what I could gather from talking with the Ari's Deli employees that were currently on shift, they have a great time servicing the masses and their hungry bellies! This is only made better by the fact that their management not only gives fair and equal wages but also Paid Leave Time (PLT), as well as constantly sourcing the freshest of foods for their ingredients and even respecting the Janitor Union. What more could you ask for from a food-providing establishment?
---
Do you or your business have something related to city life or foodie interests you'd like to talk to Weazel News about? Contact me on (835) 938-5850.