Op-Ed: To Know Is To Fear, To Fear Is To Fall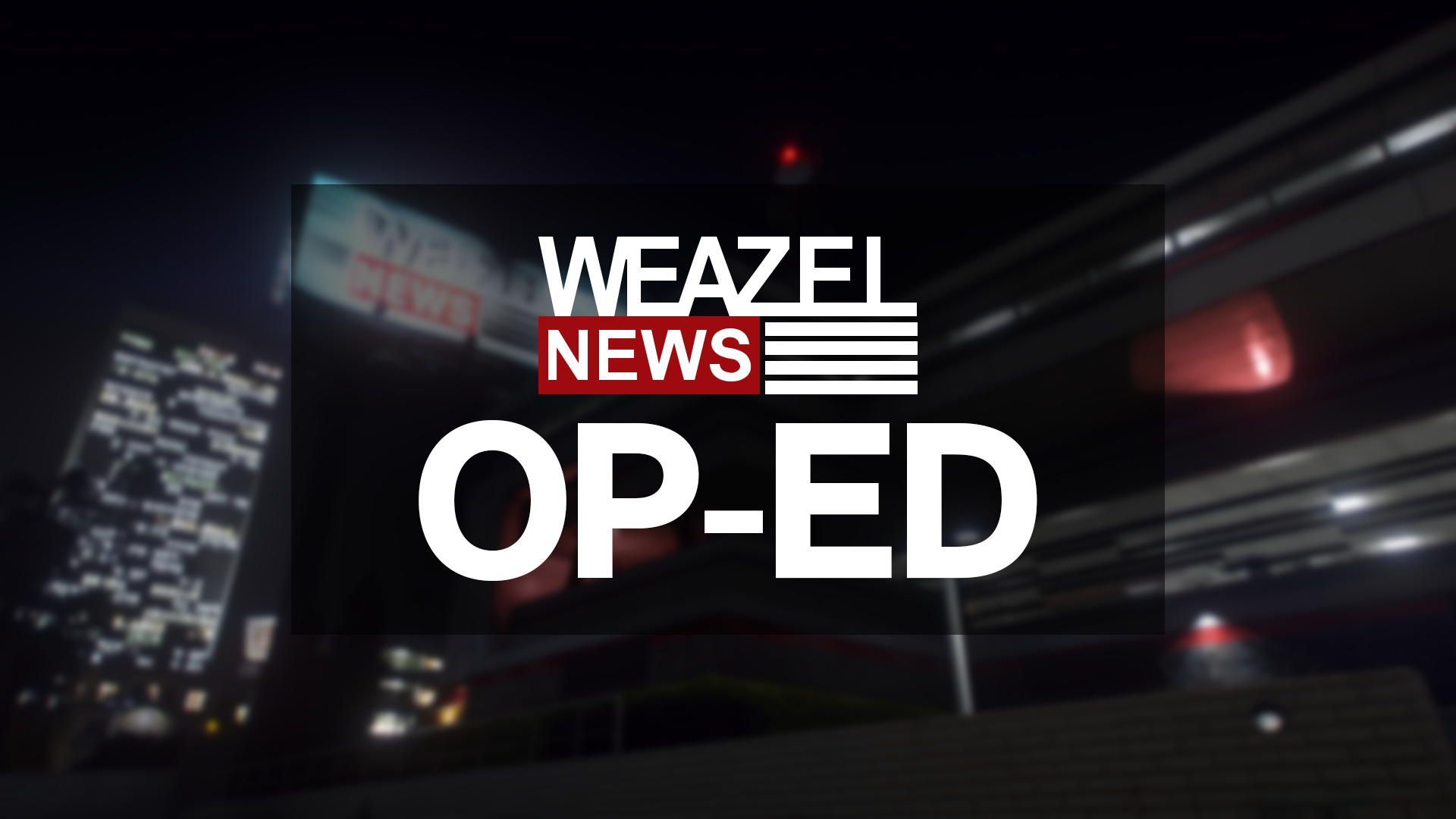 Notice: This op-ed was written by Representative Jack Callow
Op-Eds are contributed to Weazel News by members of the Public and/or political figures and do not represent the opinions of our editorial board.
To understand the truth about the country, the state, the city, it's important to understand what you don't acknowledge. We know the federal government is the highest power in the state. We know the state reps are used as puppets to pass down laws "In the best interest" of whoever they are aimed towards. We know the hospital is an island, ignored until it's needed for one thing or another. We know we never see the outcome of IA reports until they become too big to hide.
We know DoCL exists and has almost full autonomy from the spinning gears that is the government body. We know SAFA exist, and often forget they exist in this swamp. We know the governor is a position of false power, only used to pass bills unless they are not approved by the federal courts. So lets talk about the unknowns. Let's speak about how every branch, no matter how big or small, is only interested in their own self gain over the needs and wants of the civilians populace. Let's speak about how they have only gained after the terrorist attacks brought on to us from their own inactivity. Let's speak on how they threw a bone to the people while giving themselves bonuses for the duration of this self made emergency. Let's speak about the how the penal codes are being rewritten without input from the public at large, behind your backs, as we speak. Let's speak on the fact that even as I write this the government is out there, trying to form counsels to over see another departments' actions while their own go ignored or unpunished.
They attempt more and more each day to take from you what they want, and to make sure you cannot fight them in any way, shape, or form. We, the people, no longer matter to the machine that is the government. They'll hide away in their towers, only choosing to speak to us when they want to run for re-election or to momentarily de-escalate violence they have brought on themselves with their self-serving actions and egos. I came into this machine willingly, to learn how it functions, to see behind the curtain, and all I can say is I am sickened. The amount of back room deals and exchanges happening at the highest level of government are obvious, but no less disgusting. The legislature will bend over backwards to appease the LEO, but won't lift a finger to help the PDO. They fear losing their "good standing" formed by bending the knee to whims of any department over the protection of the people that elected them to office.
So what now? Now that the fear is exposed, what can you do as people? As citizens both private and open? As officers who still uphold their honor and oath over the department's thin blue line? As doctors and nurses who want to make a change for the people who come in, not just be a revolving door full of bullets? The truth is, there isn't much we can do. Protest will only give the government an excuse to give more power to law enforcement. Outright rebellion will be shut down by the military might headed by the federal government. We can say we'll vote in better politicians, but we'll never know which ones are really interested in helping people. As long as the government stagnates with the same festering rot that started the swamp, well never get out of the this endless cycle of the machine chewing up our best to feed our worse.
This not a call to action. This is not a call to arms. This is a cry for help. In a system that has stopped caring for us, this is an attempt to let the good people left in this rotten system to stand up and let the truth be heard. To call out the people in your lives who operate with malice and abuse their office. To act in the interest of the public at large over the dollars in your bank account. I am but one man, who is destined to either walk out of this machine before my time, get chewed up by this machine and come out a ghost of a man, or to be killed by the very government who has sworn to uphold order. Stay safe my dear friends, my neighbors, and strangers I've yet to meet. This has been Jack Callow.