Pearls Seafood Restaurant ★★★★☆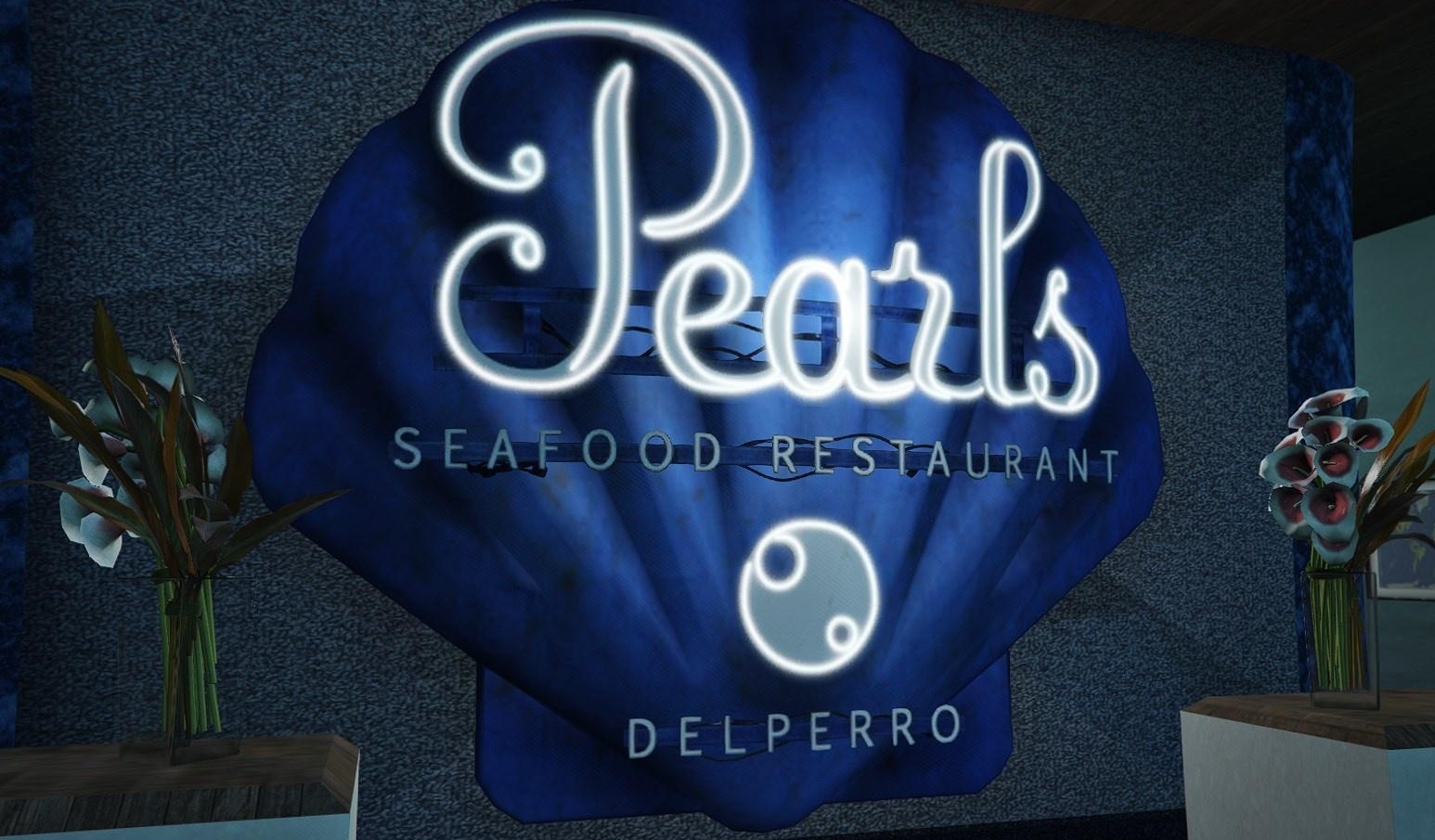 Del Perro Pier, Los Santos – Pearls is known as THE seafood restaurant of Los Santos. You can park near Beachside Billiards and take a nice stroll down the pier with a date, your whole group, or even by yourself to this beautiful restaurant. The view from inside is gorgeous no matter the time of day. At night you can see the pier rides lit up, and during the day you'll watch the sun glisten off the waves of the ocean.
Now, this place has been here for what seems forever, but we all know the last few months it has barely been open. Thankfully, a friend of the previous owner has taken ownership and plans to open a lot more, as the place means a lot to him. Charles, the new owner, even named a combo dish after himself. It's called Charles' Choice and it includes dover sole with a side of mac and cheese. It also happens to be his favorite meal at Pearls.
If you're looking for food or drink that's exclusive to Pearls, basically all of the seafood dishes, the delicious Pearl of the Ocean drink, and the Lobster Coffee are unique options. The owner did mention that he's looking to change the name of the Lobster Coffee to the "Claw-fee". You know me, I definitely ordered the Lobster Coffee with my meal.
I asked Charles what sets his restaurant apart from other places in Los Santos, seafood aside. He said every visit or interaction should be special, whether it's just a regular nightly dinner, a romantic date, a catering event on Cayo Perico, or even a private event held upstairs. Yes, that's right, their second floor is available for special occasions! It's beautiful, with a dance area complete with DJ station, an extra long table which is set up for friends or family to gather, and a full bar. I can't think of many places with such an amazing area fit for parties, weddings, or any other get together you can think of. They don't just have an indoor event area, either. Pearls also has seating outside behind the building, where they recently got another bar installed. So, if you feel like hosting an event outdoors near the beach, this may be a place to consider.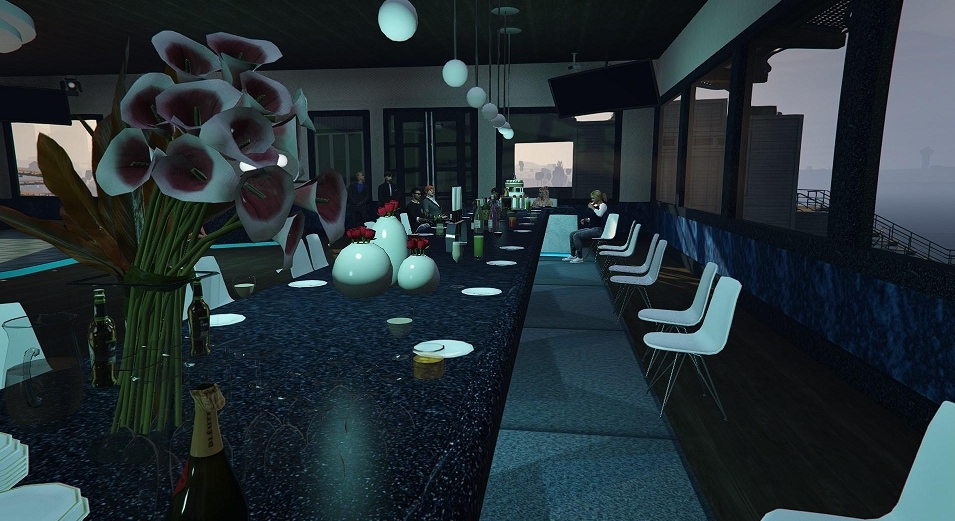 As for my order, well, I ordered way more than I could eat. I started off with a Pearl of the Ocean which has coconut vodka, blue curaçao, sprite, and ice spheres. As I sipped on it, I could feel its strength immediately. It was honestly quite crisp and refreshing. I can see someone drinking these non-stop just from the taste alone. Though I will say, definitely do not drive if you plan on downing a few of these during your meal. Pearl of the Ocean gets 5 out of 5 stars from me.
I moved on to tasting their menu's vegan option, the Vegan Delight. It includes a quinoa bowl and a salad. Since I ordered a bunch of food, I only took a few bites of this meatless meal. The quinoa tasted slightly nutty, while the texture was fluffy and creamy without being gummy at all. The salad was just a salad; although fresh, it didn't really POP. I would give this combo a 4 out of 5.
There were so many delicious sounding seafood meals to choose from, but I eventually chose to eat the ahi tuna filet. Cutting into the filet, the knife slid through it like butter. My mouth was watering just from the smell of this beautifully prepared fish, and the flavor was like an explosion in my mouth. If I didn't want to try every dish on their menu, I would probably order the ahi tuna every time. 5 out of 5 stars.
In my first article, I mentioned I drink coffee every chance I get. So, I figured, why not? Lobster coffee sounds… interesting. I'm always up for trying new things. It comes in a cute little cup with the Pearls logo on it, a spill-proof lid, and…a lobster claw? Yep, a lobster claw. It was hot and freshly brewed. The taste was buttery and nutty. It wasn't my favorite, but I would get it again to end my meal at Pearls if I didn't have a Pearl of the Ocean in my hand already. I'd give the coffee 3 out of 5 stars.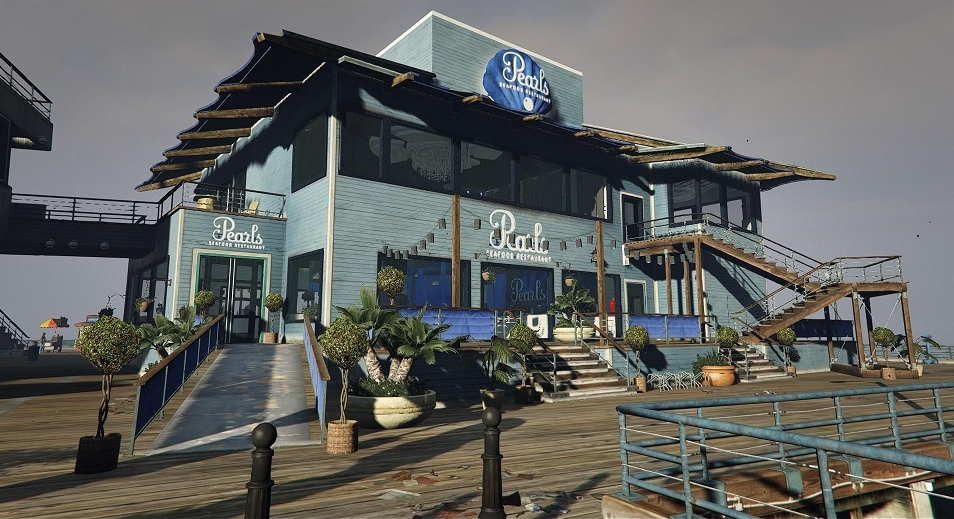 If you're in the mood for seafood, stop by Pearls. The pricing is a bit closer to lower or mid-range, with combos being listed between $50-$100, a la carte items at $40-$65, and drinks in the $20-$30 range. The atmosphere, the service, and the food were all outstanding for me. I'm sure you'll have just as good of an experience as I did since that seems to be their main goal.