Hardcore Comic Store To Release Otterly Adorable Holiday Trading Cards From McKenzie Enterprise
Los Santos, San Andreas – McKenzie Enterprise, in collaboration with Hardcore Comic, is kicking off the Christmas season with a festive otter-themed trading card pack. The 12 Days of Xmas pack is due to arrive November 25th @ 9pm est, exactly one month before Christmas Day, and will stick around until January 7th.
This will be McKenzie Enterprise's second trading pack following the recently released Ry Ry Trading Card Pack on Nov. 9th.
The likeness of these cards resembles Atey Ghalian, a virtual artist, creative director, and founder of Evader, a company based in Stockholm, Sweden. This company helps to employ talented individuals in several different types of projects involving a multitude of art platforms. This group has many accomplishments, including creating some of Valorant's, a first-person shooter (FPS) game developed by Riot games, player cards.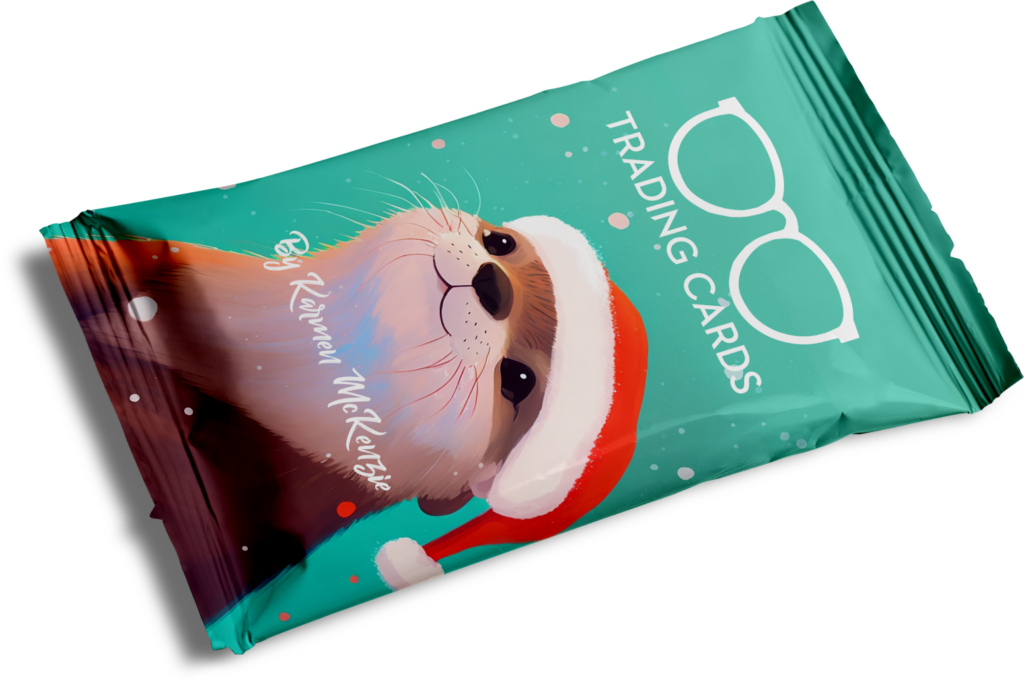 The process behind the creation of these cards was mentioned in a statement given by one of the visionaries behind McKenzie Enterprises, Karmen McKenzie.
When I originally started the 12 Days of Xmas pack, I had to decide how to get the images for the cards themselves. There was limited time to do the pack within which meant taking photos of people would likely be too ambitious. Also asking an artist to draw all twelve concepts in the time allotted was also both ambitious and expensive. Instead, I started playing with Midjourney. At the time I had no way of making all of the cards match aside from the fact that I used most of the same words in the prompt except for the action of the otters themselves. I ended up choosing the images that didn't look the worst because what I got wasn't great. They were cute and passable, but not great. Pippi DuPons, my CEO of McKenzie Enterprises, showed me how to upgrade the version of Midjourney I was using, and then I researched some of the better quality outcomes on the Midjourney main gallery. I discovered a piece with the prompt stating, "by Atey Ghailan" that perfectly captured the feel I was going for. Between the upgraded version and adding "by Atey Ghailan" I was able to move into a new version of pictures that captured the wholesome effect I intended. I hope future projects give me more time to work with local artists as that is the intended goal, but for the short turnaround of this pack Midjourney really helped me get this pack produced in a short time frame.

Karmen McKenzie
There will be twelve cards in total as a reference to the iconic Twelve Days of Christmas, or Twelvetide, the famous Christmas carol. But, instead of five gold rings, four calling birds, three French hens, and two turtle doves, recipients will be receiving four otters calling, three French otters, two otter hugs, and much more.
The trading cards are bundled in an equally charming turquoise package with an otter embedded on the front. Each pack will contain four cards with a total of twelve cards total to collect. Similar to the Ry Ry pack, there will be varieties in terms of rarities.
Common and uncommon cards will consist of Otters Dancing, Otters Leaping, Otters Piping, Otters Drumming, Golden Otters, Otters Sleeping, Otters Swimming, and Otters Building. The rare category consists of Otters Hugging, French Otters, and Otters Calling. The most difficult to obtain will be the Otter In A Pear Tree.
Want more of these otterly cute fur babies? Find out what the rest of the trading pack entails by visiting your Hardcore Comic Store on Nov. 25th starting at 9pm est!