State Prosecutors Issue Bounty Against Fugitive, Condemned By DOJ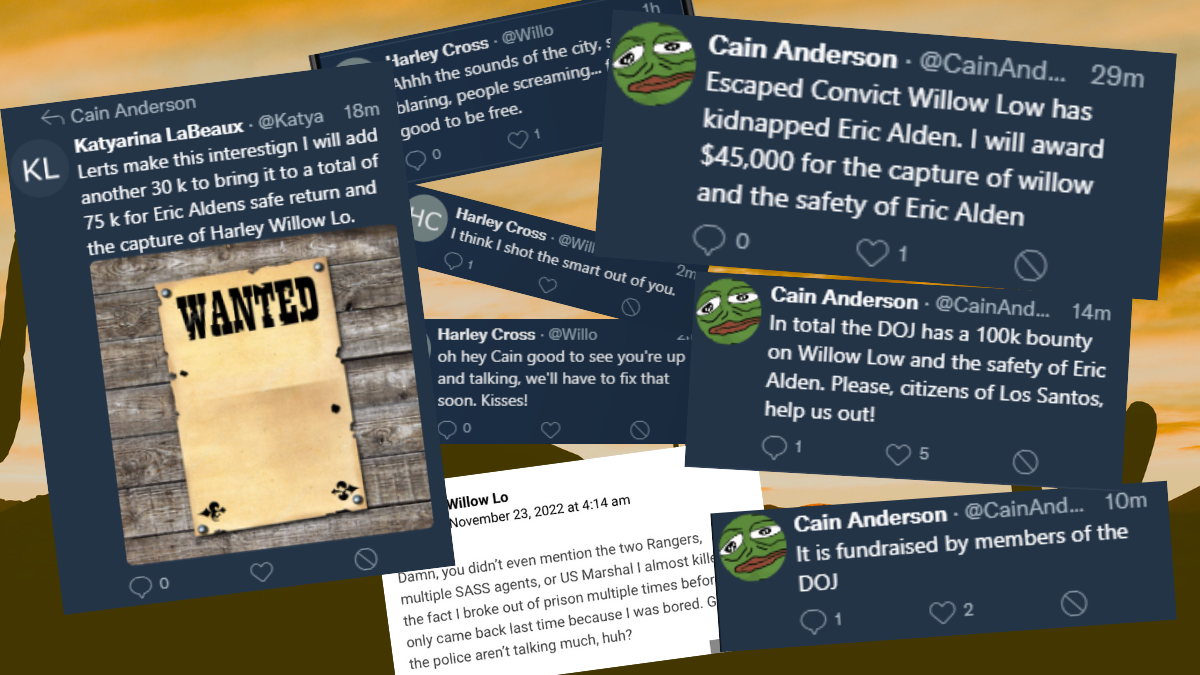 Los Santos, San Andreas – On the night of American Thanksgiving (November 25th, 2022), Senior State Prosecutor Cain Anderson of the Department of Justice (DOJ) claimed on Twitter that Harley "Willow" Cross, one of the wanted fugitives who escaped Bolingbroke State Penitentiary, had kidnapped Eric Alden, another State Prosecutor with the DOJ.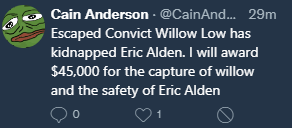 In this same Tweet, Anderson also announced that he would issue a reward of $45,000 for the capture of Cross, and the safety of Alden. Less than a minute later, Anderson reaffirmed this, directly specifying that this offer went to anyone who "gets Eric Alden and [Harley Cross] Willow Low". After several responses from members of the public, asking for the location of these targeted individuals, Anderson states he was not aware of their exact location. He then claims that Cross tried to murder him (Anderson), but failed, and was likely meaning to attempt to murder Alden as well.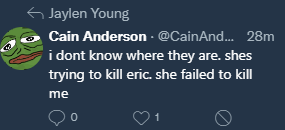 After it appeared no progress had been made in locating Cross or Alden, further social media posts from Anderson announced he was increasing the reward to $60,000. Only two minutes later, fellow State Prosecutor Katyarina LaBeaux followed up this Tweet with her entry into the fray, claiming she was contributing funds to the reward bringing the total up to $75,000; Her Tweet also included a stock image of a "wanted poster".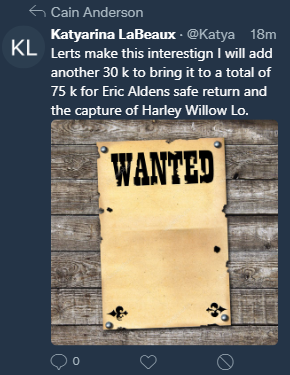 Mere minutes later, Anderson Tweeted again, claiming that the DOJ had, quote, "a 100k bounty on Willow Low and the safety of Eric Alden. Please, citizens of Los Santos, help us out!"
The images below show the tweets when Senior State Prosecutor Cain Anderson of the DOJ publicly claimed that the DOJ has placed a bounty of $100,000 against Harley Cross, and pleads for the members of the public (and not the Law Enforcement Agencies of the State) to pursue claiming the bounty. However, after a Correspondent from Weazel News replies to these Tweets to inquire on whether this bounty was officially on behalf of the DOJ itself, Anderson claims it was "fundraised by members of the DOJ".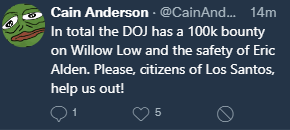 With further inquiry, attempting to ask specifically if it was an official bounty placed by the DOJ, LaBeaux entered into the conversation again. She claimed that all of this is purely on behalf of "friends and colleagues" wanting Alden home safe, and not on behalf of any government entity. She stated in her post that they are trying to get their family member back. We asked for clarification if they were doing this through paid vigilantism (or a bounty, in their own words), to which LaBeaux said we were arguing semantics, and she and the DOJ would be happy to debate with us with wordplay after Alden had been safely returned.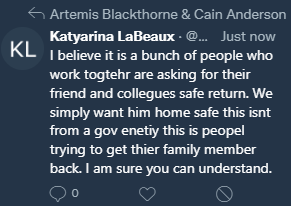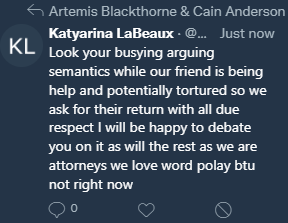 It is important to note that, while these State Prosecutors claim towards the end of this sequence of events that these actions were on their behalf, and not on behalf of the DOJ, at least one of these individuals was clocked in at the DOJ during this incident, and therefore receiving pay for their time spent on this.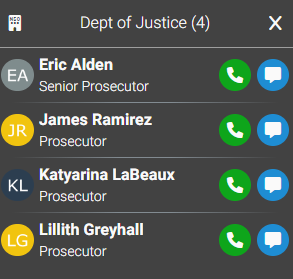 While Weazel News can confirm that Eric Alden was recovered by Law Enforcement (and brought to Eclipse Medical Center to be treated for his serious injuries), the reality of these events needed to be acknowledged and addressed. With at least two openly involved State Prosecutors issuing "bounties" against escaped fugitives with their personal funds, using the DOJ name, one must ask – "Is this legal"?
We first reached out to Deputy Marshal Mitch Wheatkings, of the United States Marshal Service (USMS), for comment on these events – Specifically asking if the USMS had been contacted by Anderson, LaBeaux, or the DOJ as a whole in regards to this bounty.
"No one from the USMS office was contacted regarding this. I will say that this created a dangerous situation across the State where civilians were out searching for hardened criminals. Should someone get hurt, well I just don't want to imagine the consequences."

Deputy Marshal Mitch Wheatkings – USMS
With this entire sequence of events centering around members of the DOJ, we also reached out to State Attorney Liam McGrath, the head of the DOJ for comment. They've issued the following press release in response:
While Weazel News does not have any information on the details of this internal investigation within the Department of Justice, State Attorney McGrath appears to condemn the actions of Anderson and LaBeaux (and any other prosecutors who may have been involved), and clearly expressed the DOJ does not condone vigilantism (which Anderson and LaBeaux appeared to be calling for.)
Weazel News will continue to follow this story as it progresses and provide updates as soon as they are available.