Bolingbroke Breakout: Inmates On The Run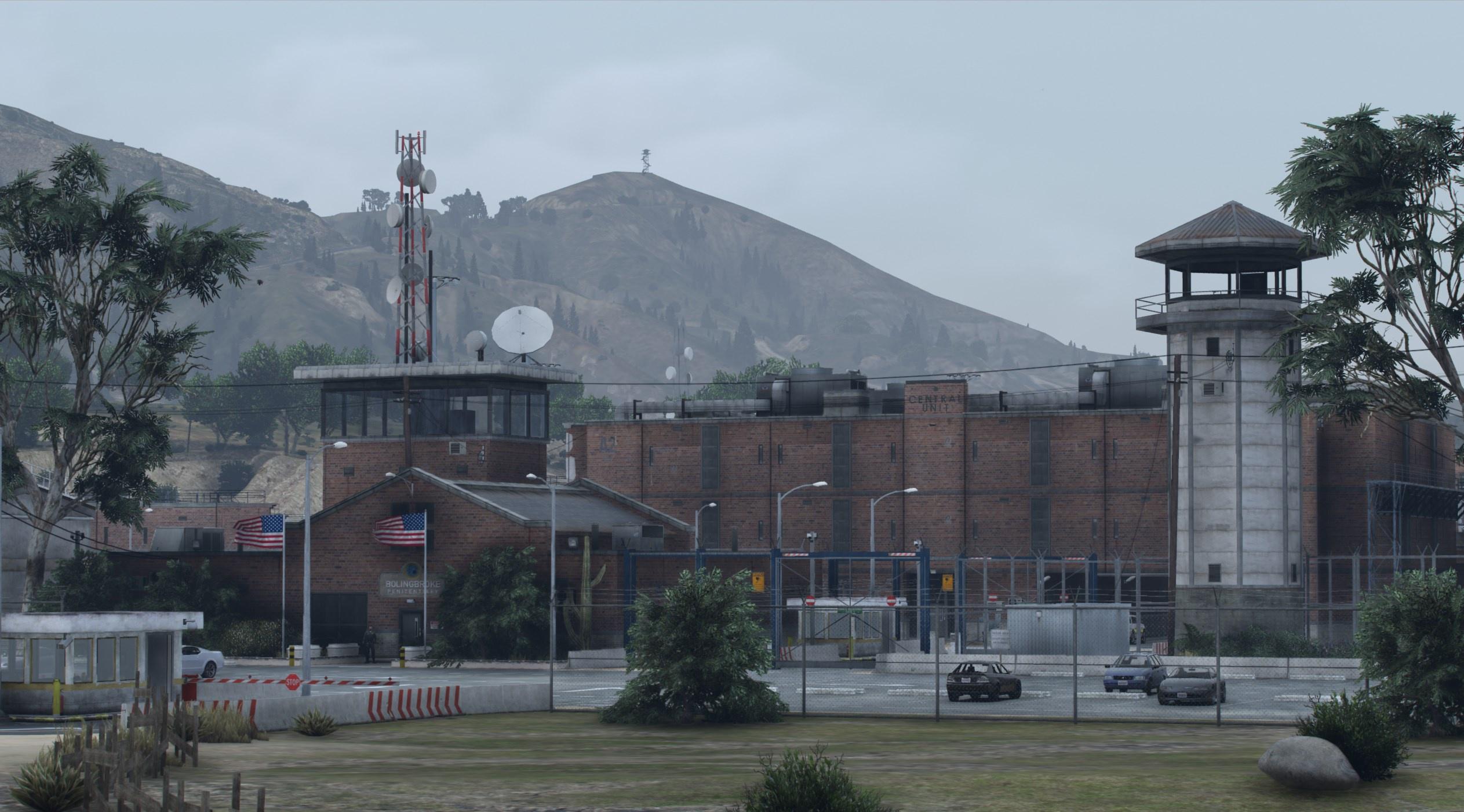 Blaine County, San Andreas – Several prisoners successfully escaped from Bolingbroke State Penitentiary (BBSP), located along Route 68, late Sunday evening and are currently at large. The U.S. Marshal Service (USMS) has confirmed the identities of these three inmates to be Michael Norman, Harley "Willow " Cross, and Mace Woods. Wanted posters have been provided by the USMS and are included below.
The Blaine County Sheriff's Office (BSCO), San Andreas Security Services (SASS), and USMS have released an initial statement and will supply more information as they become available. The USMS plans to provide a more comprehensive press conference on the matter in the near future.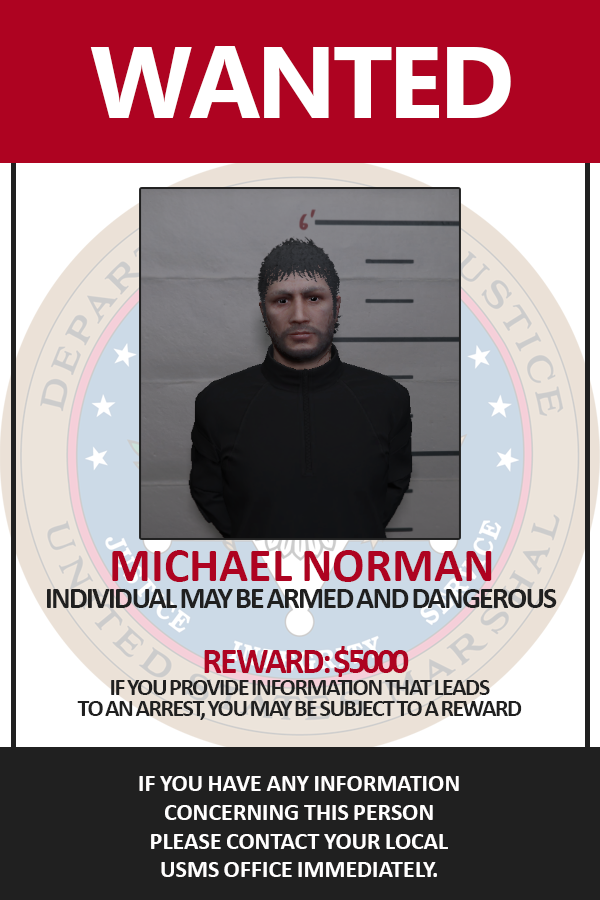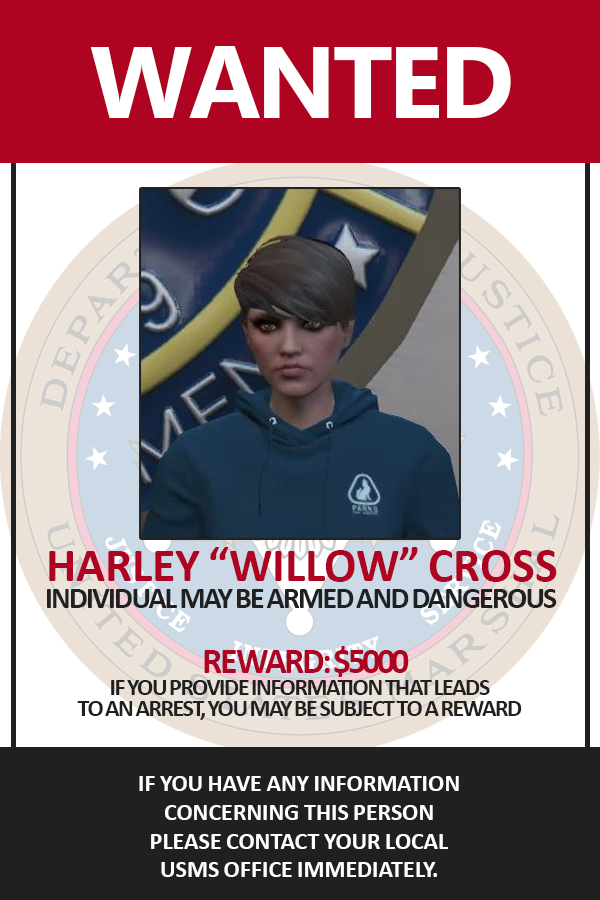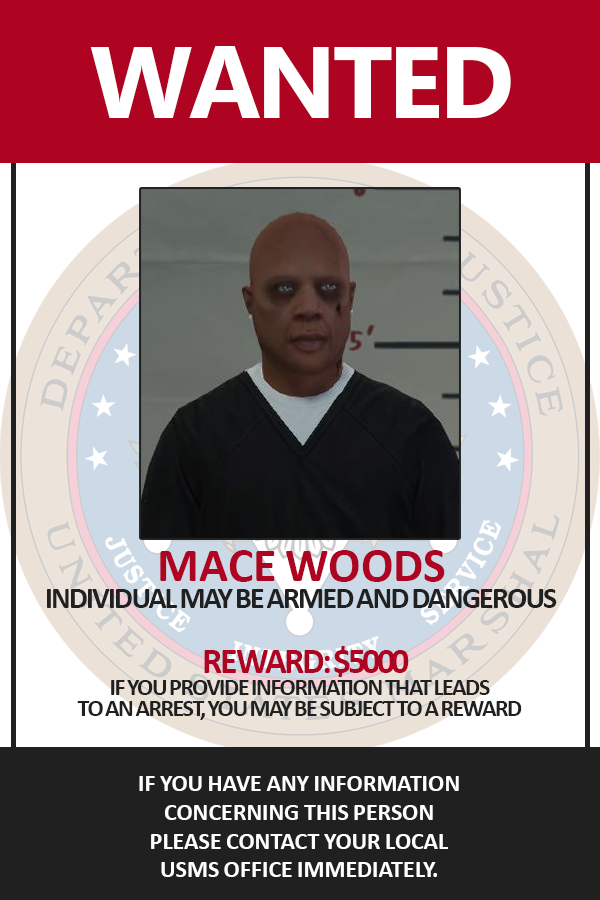 Both Norman and Cross share a history of murder and violent assaults; However, there are no public records on Woods, but he is suspected of serving a life sentence.
USMS are currently searching for any information regarding their whereabouts and consider the trio to be armed and dangerous. The USMS is offering a $5,000 reward for any information leading to the arrest of the three escapees. Any information on where these dangerous individuals should be relayed to law enforcement via the Major Crimes Division (MCD) tip line.
---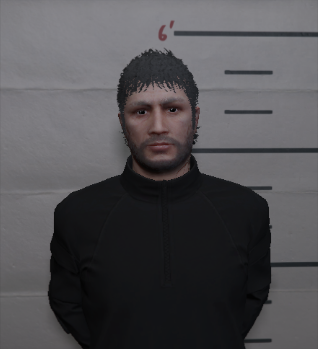 Who is Michael Norman?
According to 2021-CM-147, Michael Norman was originally sentenced to more than 20 consecutive life sentences in Utah for over 20 first degree murder charges. He was transferred to BBSP to begin serving time in August of 2021, where he promptly escaped due to a system error that allowed his release. 
Quickly following his escape, he began targeting and stalking Elizabeth Williams, who at the time was the Chief Justice of the San Andreas Supreme Court.
On November 17th, 2021, the body of Veronica White was found with multiple stab wounds in Paleto Bay, between the broken sections of a bridge on Procopio Promenade. The discovery was made due to an anonymous 911 call, which instructed law enforcement on where to locate her remains. DNA evidence later linked Norman to the scene.
A note was also left behind, which was somewhat incoherent, though it alluded to the involvement of a State Prosecutor and a missing officer.
Another victim was discovered bleeding out on November 18th, 2021, at approximately 8:30 pm EST, with aid from an anonymous 911 call. The victim, later identified as Morgan Strauss, told police she had been approached by a man who vaguely sounded "like Batman" after she tweeted for a ride to the Little Teapot.

Upon arrival, police secured the scene and gathered evidence, including a note addressed to the Chief Justice. Williams later mentioned that the crime scene was beside her home.
Later, on November 22nd, 2021, Sharon and Jason Rice were found murdered in their backyard off of El Gordo Drive, with a note that blamed Williams for their deaths.
Following the incident, police began a sting operation on November 26th, 2021, to apprehend Norman, with Officer Emily Ducksworth disguising herself as Chief Justice Elizabeth Williams. Initially, he refused to attend an impromptu meeting at the Alta Courthouse; However, the police later coordinated a meet-up at the lower deck parking garage off West Eclipse Boulevard. Norman arrived shortly after. Once the trap was sprung, Norman fled the scene.
A high-speed pursuit ensued before Norman attempted to abandon his vehicle and continued the pursuit on foot by multiple officers. He was finally apprehended and transported to Mt. Zonah Medical Center for necessary medical aid. Norman attempted to escape during his short time at the hospital, but this attempt was thwarted; He was ultimately transported to BBSP.
Norman was charged with one (1) count of Grand Theft Auto; three (3) counts of Aggravated Battery; one (1) count of Stalking; one (1) count of Reckless Driving; one (1) count of Second Degree Attempted Aggravated Murder; one (1) count of Attempted Second Degree Murder; three (3) counts of First Degree Murder; one (1) count of Evading Arrest; and one (1) count of Uttering Threats.
The Department of Justice intended to seek the death penalty for Norman. Later, however, Norman was offered a plea deal for the imprisonment of 50,000 months (with 11,000 months served) and a fine of $19,400. As a result of the plea deal, Norman would become eligible for parole after 50 years. At some point, he was released from prison. Weazel could not locate any public information on the details of his release.
Norman was evidently not rehabilitated by his time in BBSP, continuing to harass and cause harm to members of the Department of Justice (DOJ). 2022-CM-131 details each of these incidents:
Lional McKenzie was attacked on June 14th, 2022, at a party hosted by Joana Poole. At that time, he was a State Prosecutor.
Joana Poole was attacked on June 21st, 2022, and identified her and Lional's attacker as Norman. She was the State Attorney at the time.
Liam McGrath was attacked on June 29th, 2022, leading to Norman being temporarily apprehended. McGrath was a State Prosecutor at the time.
Adrian Jax was attacked and kidnapped from City Hall on July 2nd, 2022. She was a Senior State Prosecutor at the time. This incident led to the creation of an arrest warrant.
On July 3rd, 2022, Norman made a 911 call to the police to request medical assistance. According to authorities, Norman had been involved in a shootout south of Braddock Pass, in the Chiliad Mountain State Wilderness. According to a statement made at the time, Norman said he had been acting in self-defense. While receiving medical attention, he was positively identified, and later arrested. A gun and knife were both discovered on his person and seized for further investigation.
Norman was charged with two (2) counts of Attempted Aggravated Murder of the First Degree and two (2) counts of Aggravated Kidnapping.
Norman was unable to pay bail and was sent to prison to be held until trial. A bail hearing later occurred, but Norman failed to meet the initial bail conditions set for him: The defendant is to check in with law enforcement 2 to 3 times a week to ensure the conditions of his bail are being met. Two more bail conditions were given in addition to the first by Chief Justice John MacLamar after it was concluded that Norman had not been properly informed of any conditions.
Judge Hector Cortez later dismissed the charges in accordance with the Speedy Trial Act, as despite numerous delays and continuances, a trial date could not be determined.
Kristallen Keller, a paralegal at the time, would become the only survivor of Norman's next mass murder of six individuals; 2022-CM-204 describes what occurred in great detail.
On August 13th, 2022, Keller had been on a mission to create some baked goods for a friend who was in the hospital. She was approached and offered a ride to the county by Norman. He was initially described as friendly until the conversation led to the mention of Keller's occupation. After visiting the fruit stand, Norman threatened her life and led her to an isolated location where he showcased several other injured people. When she attempted to place a 911 call, she was stabbed multiple times and left for dead.
His other victims included Jackson Parker, 29, Elizabeth McKenzie, 33, Raymond Lee, 41, Charlotte Reynolds, 61, Renee Walters, 22, and Ashley Williams, 19.
Norman was later apprehended while fleeing the scene. He was charged with one (1) count of Assault with a Deadly Weapon, six (6) counts of Second Degree Murder, one (1) count of Attempted Second Degree Murder, one (1) count of Evading Arrest, and one (1) count of Joyriding. He accepted another plea deal and received life imprisonment with a chance of parole after 50 years and a fine of $19,050.
After serving 79 years of a life sentence, Norman filed for a parole hearing on November 14th, 2022; However, before the court could organize a date for a hearing, Norman escaped BBSP. The courts have since denied him parole due to his alleged failure to demonstrate reasonable rehabilitation illustrated with his escape from BBSP.
Those employed by the DOJ still appear to be his primary targets, but he is known to murder indiscriminately.
---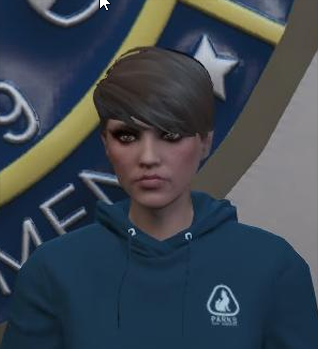 Who is Harley "Willow" Cross?
According to 2022-CM-255, before arriving in San Andreas, Harley Cross was the prime suspect in the murder of Sergeant Alexander Wylon in April 2019. In an official report, Sergeant Wylon had initially been called to a traffic stop on a white Dodge Neon, which had been reported stolen earlier that morning.
During the stop, police were prompted to respond to a panic alarm triggered by Sergeant Wylon. When officers arrived, they found Sergeant Wylon had be-en fatally shot multiple times and was pronounced dead on the scene. 
Video evidence from Sergeant Wylon's body cam later confirmed her involvement.
Cross was later apprehended by state police and transported to Florence McClure Women's Correctional Center in Las Vegas, Nevada. Specifics of her arrest were not made public.
On May 13th, 2022, in a report made by Sergeant Peter Albertson of the Las Vegas Metropolitan Police, Cross faked a medical emergency to be transported from the Florence McClure Women's Correctional Center to the Clark County State Hospital. Before she could be evaluated, Cross convinced two correctional officers to leave her without any supervision to allow her to change into a hospital gown in privacy. When the officers returned to the room, Cross attacked them with a scalpel and quickly overpowered both officers. CCTV footage from the hospital later showed her stealing a motor vehicle headed Southbound.
A warrant was issued to all major police departments and registered in all federal agencies across the United States. Cross evaded arrest until she arrived in San Andreas.
On October 2nd, 2022, Cross pleaded guilty to the murder of Sam Church, a retired Federal Investigation Bureau (FIB) agent, whose body was found on Normandy Drive in Vinewood Hills. She was sentenced to life in prison in BBSP, with the chance of parole on January 1st, 2023.
Cross was last seen at BBSP before she escaped wearing a standard prison uniform. She is 5'2" tall with an average build, short blonde hair, and golden-brown eyes, weighing approximately 103Ibs. Known aliases consist of Marina Corsair, Willow Cross, and Beverly Low.
---
The public is urged to not approach these escapees under any circumstances and to inform the U.S. Marshal Service if you have any information on their whereabouts via the Major Crimes Division (MCD) tip line.
Weazel News will continue to update the public on this matter as the story is ongoing.