Candidates Celebrate Victory On Election Night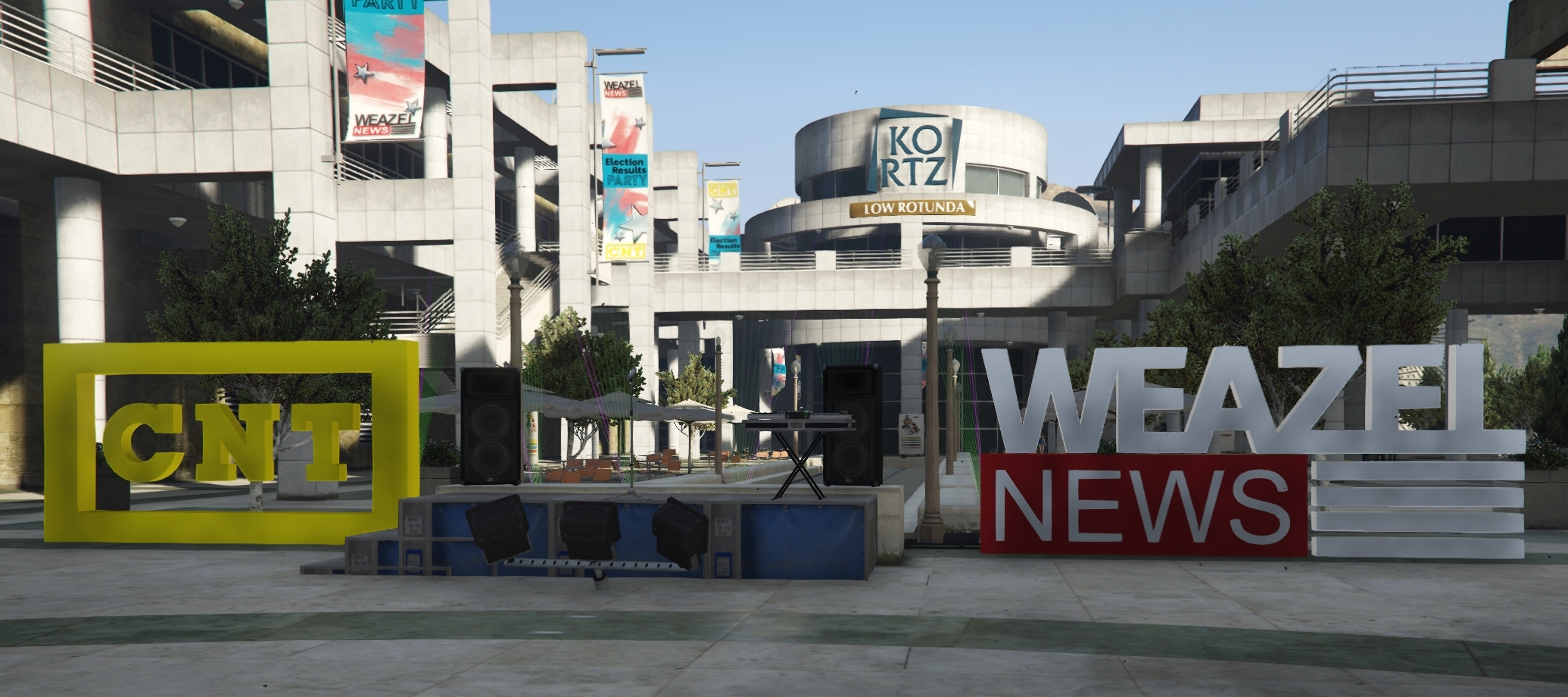 Los Santos, San Andreas – This week, the state of San Andreas came together to celebrate the culmination of two weeks of intense campaigning followed by four days of voting as citizens came together to express their collective democratic vision. Hosted by the San Andreas Voters Association in conjunction with Weazel News and CNT, candidates and voters alike gathered at the Kortz Center on Monday night for the state's first Election Results Party. With live radio and television broadcasts keeping the voters at home informed, vote counts rolled in throughout the night as precincts around the state began reporting.
The night began with an extremely tight race, showing Vlad Tod and Cole Gordon in a dead heat after nearly all early votes for dark horse candidate Andre Johnson selected Mr. Gordon as their second choice. Incumbent Mohn Nash led the State Representative race, followed by newcomer Hudson Welsh, Representative Becks Lawson, and Merryweather CEO Jacob Wheeler. Incumbent Endeavour Jackson rounded out the top five as the reports rolled in.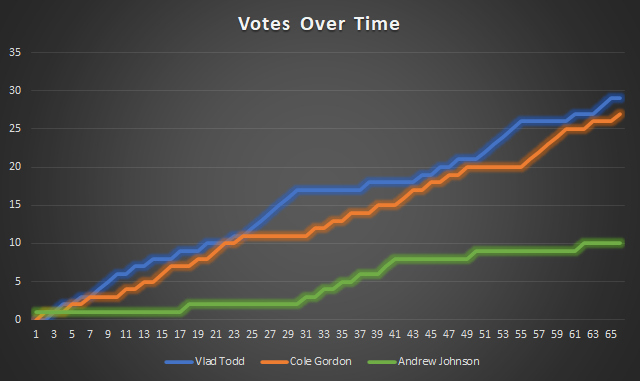 Throughout the evening, several candidates and Governor Paxton himself joined Weazel News and CNT on our co-broadcasts to talk about the results, reflect on the campaign trail, and share their thoughts for the future of San Andreas. Once just over 50% of the votes had been counted, the Tod-McKenzie campaign had begun pulling away, garnering nearly half the votes cast with the Gordon-Hall ticket gaining just under 40% of the first choice selections. On the State Representative side, Endeavour Jackson had surged past Beck Lawson, with Grace Stone leaping into fifth place as Jacob Wheeler fell below Josh Zimmerman into seventh.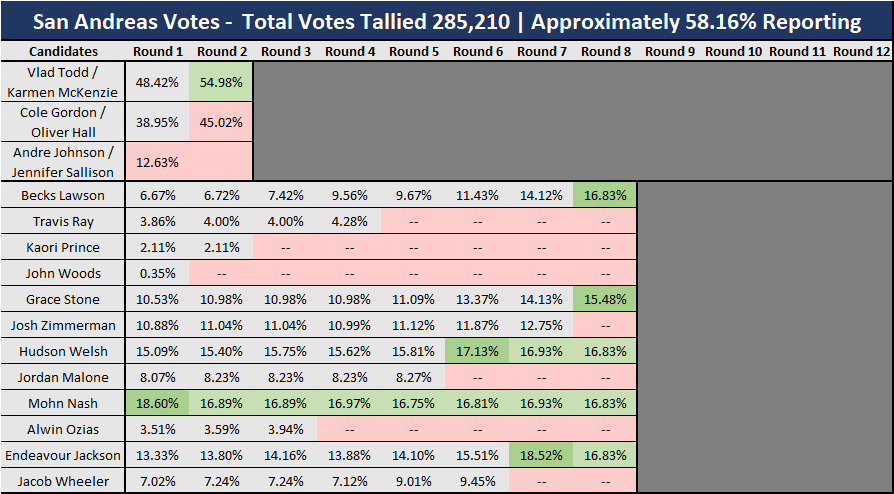 As the night went on, the votes tallied only served to cement the results that were growing clearer by the minute. By the end of the evening, Vlad Tod & Karmen McKenzie had received an overwhelming mandate of 50.22% of the vote, with another 6.38% of voters selecting them as a second choice to Andre Johnson & Jennifer Sallison, who finished third with 13% of the vote total. While there were several shifts in the fight to contend for fifth place, the State Representative race held steady, awarding the victories to Mohn Nash, Endeavour Jackson, Becks Lawson, Hudson Welsh, and Grace Stone as our next legislature.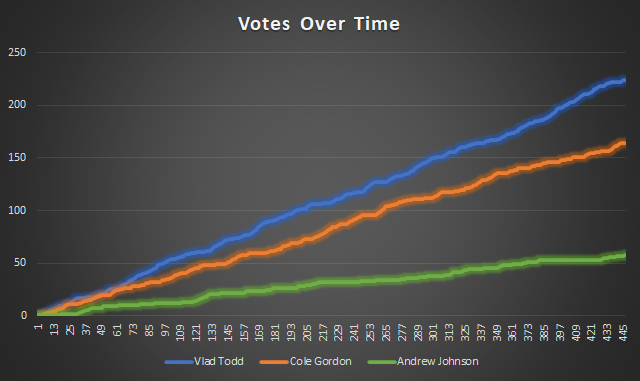 With their victories secure, our candidates gathered on the election night stage to speak to the voters who had put them in office. CNT CEO Ramses Thompson stepped up to introduce San Andreas' Governor-Elect Vlad Tod, alongside the newly re-elected Lt. Governor Karmen McKenzie.
Following their victory speech, Master of Ceremonies Meryl Ford stepped up to introduce the first re-elected State Representative, Becks Lawson.
Returning to the stage once again, the owner of Blood Night Bouts gave voters their first taste of new blood in the Spring 2022 government, Shadowcade co-owner Hudson Welsh.
Ramses Thompson came back up following Representative-Elect Welsh's exuberant exit, calling up re-elected incumbent Mohn Nash who was joined by campaign spokesman Puck Crowley.
Following that enigmatic speech, Representative Endeavour Jackson spoke very briefly about beginning his third and final term in office.
The second newcomer to the Legislature, Grace Stone shared heartfelt thanks with those who supported her campaign for office.
To close out the evening, Ramses Thompson returned to the stage one more time to share his thanks for everyone who helped create this historic night.
Weazel News would like to thank everyone who made this such a successful event: Meryl Ford hosting as our Master of Ceremonies, Konrad Knives providing live performances, Cockatoos Nightclub keeping the drinks pouring, and Angelica Carlisle keeping the DJ booth rocking. We're also grateful to all the local vendors who showed up to support our community: Burgershot, Cream Pie, The Little Teapot, Pipe Down, and Seoul LTD! Congratulations to our own Weazel News team: Gregory Stonefinger on Rebel Radio, Mickey Rivers on CNT Television, event organization and decorating from Mollie MacGregor, and photography by Erin Murphy and Kyle Rogain.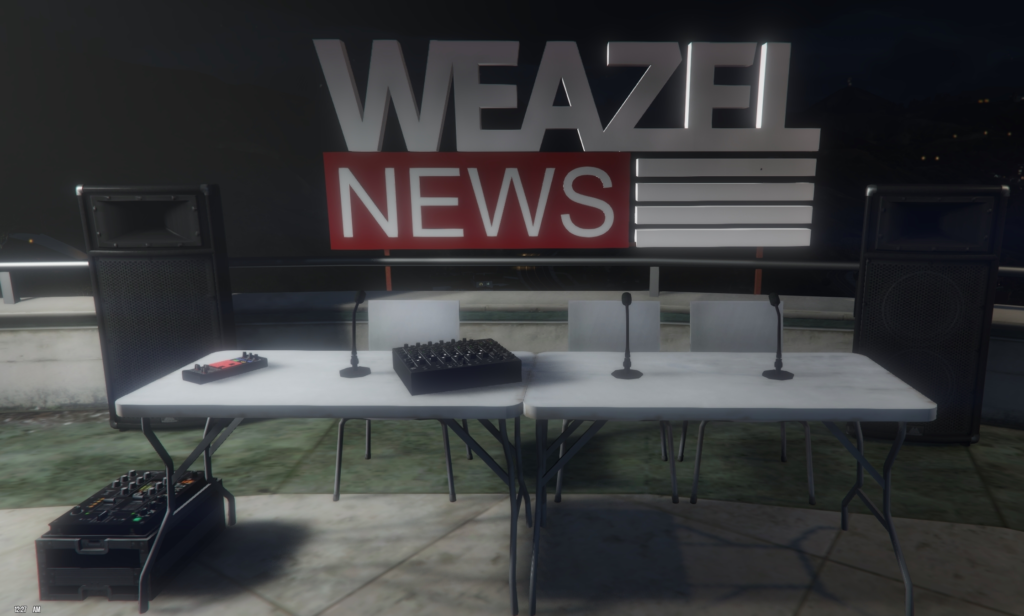 We'd also like to thank our partners at CNT, without whom this event would not have happened. Wyatt Diaz, Ramses Thompson, Kara Skarsgard, Nigel Worcestershire, and Brad Cooper were all instrumental in organizing and broadcasting throughout the night! Thank you to the San Andreas Voters Association, Governor Paxton, our candidates, and the voters themselves for making this such a success. We'll see you next election!