Oliver Hall Advocates For Criminal Loopholes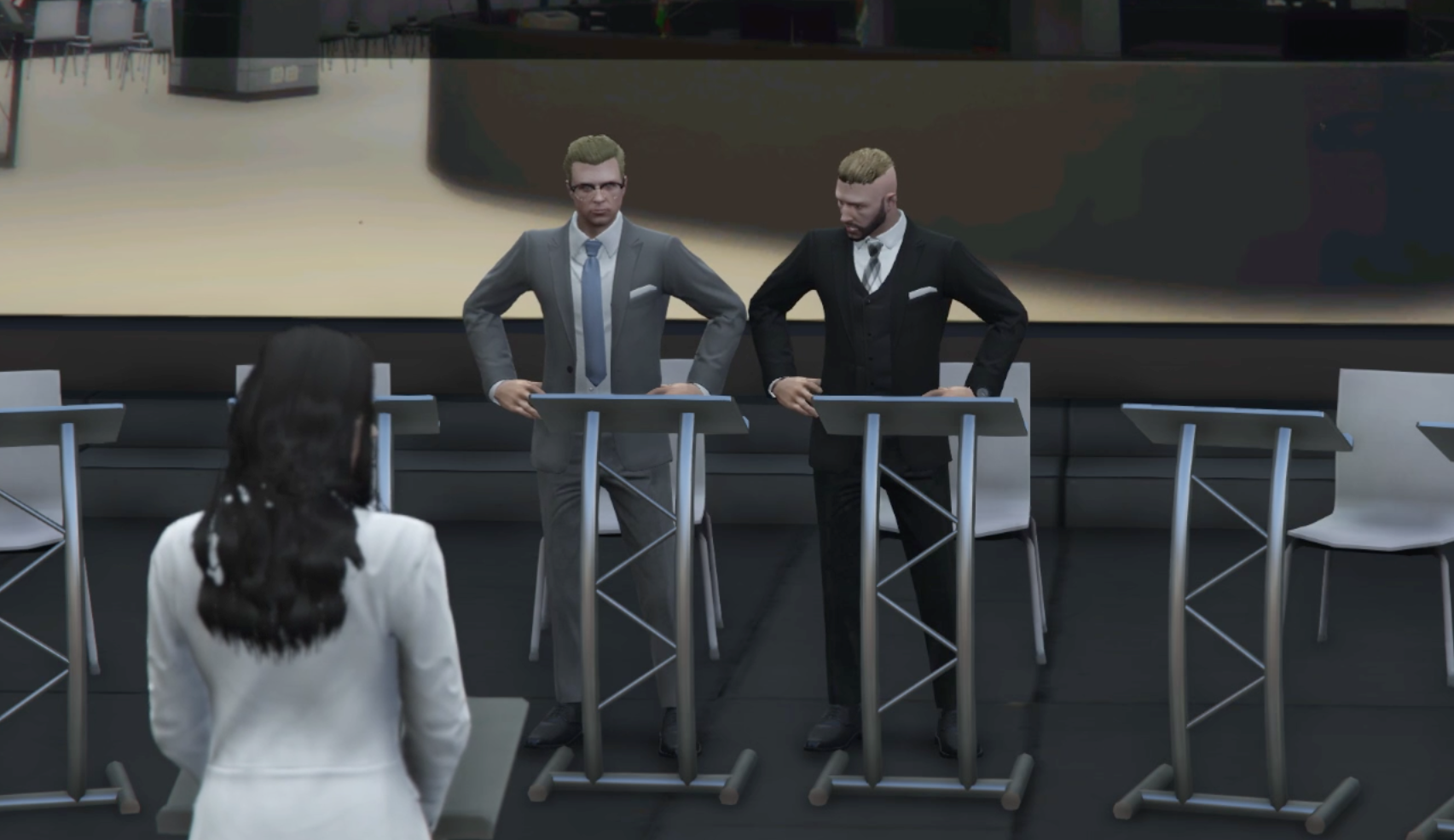 Los Santos, San Andreas – The city knows well what Cole Gordon and Oliver Hall stand for. Their eight-page platform is publicly available and was strongly touted by these two candidates at the Governor Debate last weekend. It's a long document to read through, but there's an interesting item at the top of their agenda: The Speedy Trial Act.
Their campaign platform describes it, quite innocuously, as a bill that will guarantee a citizen's "right to a speedy and fair trial". Seems like a great idea, doesn't it? Well, it is a great idea, but the devil is in the details. The Speedy Trial Act was proposed by Representative Mohn Nash during the 8th Session of the 2nd San Andreas Congress as bill H.R. 049, and it subsequently passed with a unanimous vote from the Legislature before being sent to Governor Paxton to be signed. It promises to prohibit violations of an accused citizen's right to a speedy trial, and to "provide a mechanism for required relief to be granted".
While the bill was proposed by Representative Nash, it was in fact co-authored by Oliver Hall and Cyrus Hunt, a fact that Mr. Hall boasted about at the debate. It's a cornerstone of their campaign platform, and as such was the subject of much discussion. Andre Johnson, candidate for Governor, questioned Cole Gordon's stance on this bill, which represents the top item of their legislative agenda. He sought to clarify their support for the Speedy Trial Act, at which point both Mr. Hall and Mr. Gordon proclaimed that they backed the bill. When pushed for specifics, Mr. Hall pointed out that he wrote the original version. Curiously, however, Mr. Gordon said that he had some concerns with his running mate's proposal and only supported the amended version (more on that later).
As you can see from this segment of our live debate broadcast, Mr. Gordon alluded to a petition that was sent to Governor Paxton in an attempt to gain his signature after he had declined to sign it once it landed on his desk. He said they "spoke to the Governor and we worked with him well, we realized an amended version was needed to be pushed for".
Weazel News has, through an anonymous source, obtained transcripts of the very communications between Governor Paxton, Lt. Governor McKenzie, and no less than 14 other individuals who signed the aforementioned petition on January 4th, 2022. The signatories to this petition included a number of candidates running in this very election, namely Oliver Hall, Cole Gordon, Mohn Nash, Vlad Tod, Alwin Ozias, and Tyler Syring.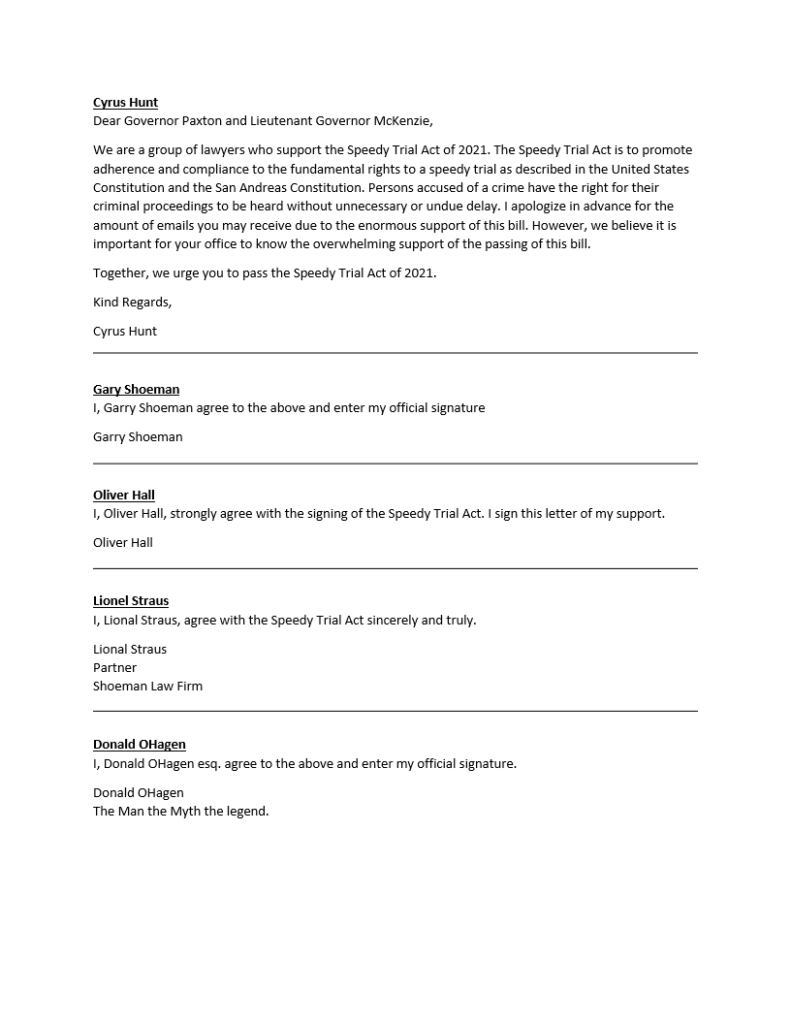 This petition, by Cole Gordon's very own statement during the debate, expressed clear, unwavering support for the original version of the Speedy Trial Act as passed by the legislature. In response to their petition, Governor Paxton explained in detail his concerns with the bill as-written. Specifically, he felt the default bail conditions created a loophole that would allow repeat offenders to be granted bail for dangerous crimes while already released on bail from a prior pending criminal charge. He also warned that the five day requirement for bail hearings was logistically stringent, given that it takes up to 72 hours to complete scheduling once a hearing is requested, leaving just 48 hours within which to hold the hearing, if everyone is even available.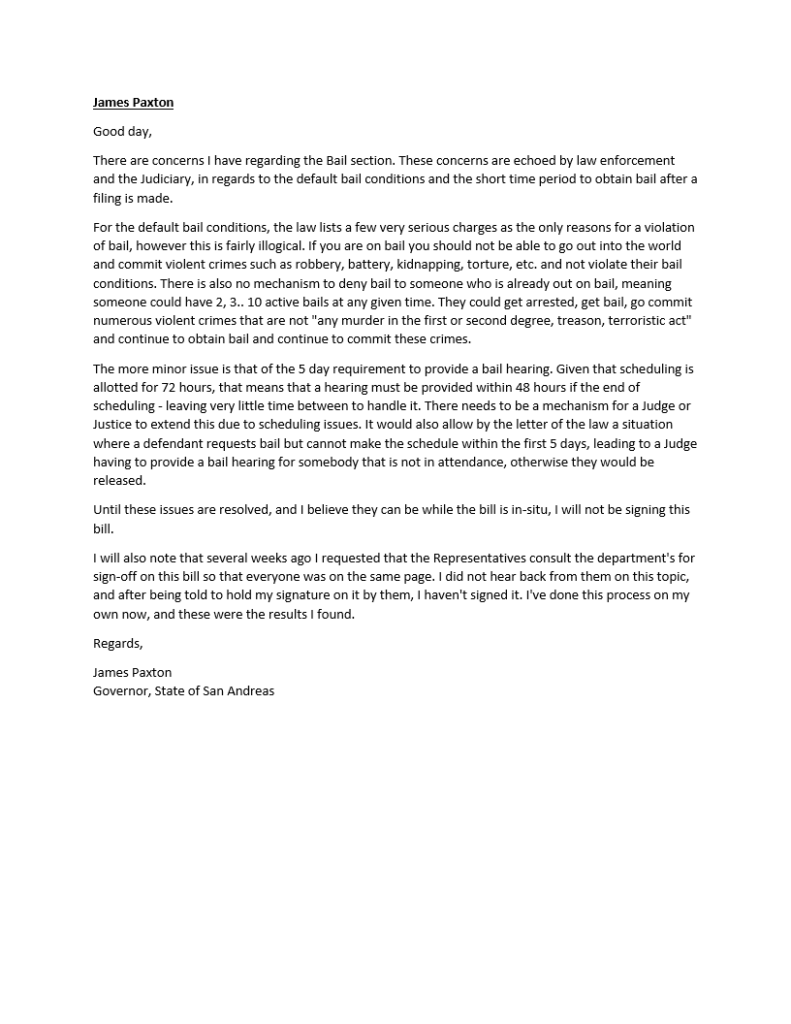 As you can see above, Governor Paxton also noted that he asked the Legislatures to consult various government agencies that would be impacted by this bill, and after several weeks no State Representatives responded to that request. Meanwhile, he conducted his own conversations with members of those departments, who specifically asked him not to sign the bill as it stood at that time. So, while he agreed with the stated purpose of the bill, he refused to sign it as the petitioners requested.
Oliver Hall, however, was not moved by the Governor's evidence-driven response, despite it being informed directly from the conversations he'd had with these government agencies. In his response, he erroneously claimed that the Governor was advocating for citizens to be held until trial on a speeding, completely misrepresenting the position. He also stated that their original draft of the bill required bail hearings to be conducted within 48 hours from the time one is requested, noting that they only adjusted it to five days after pushback from members of the judiciary.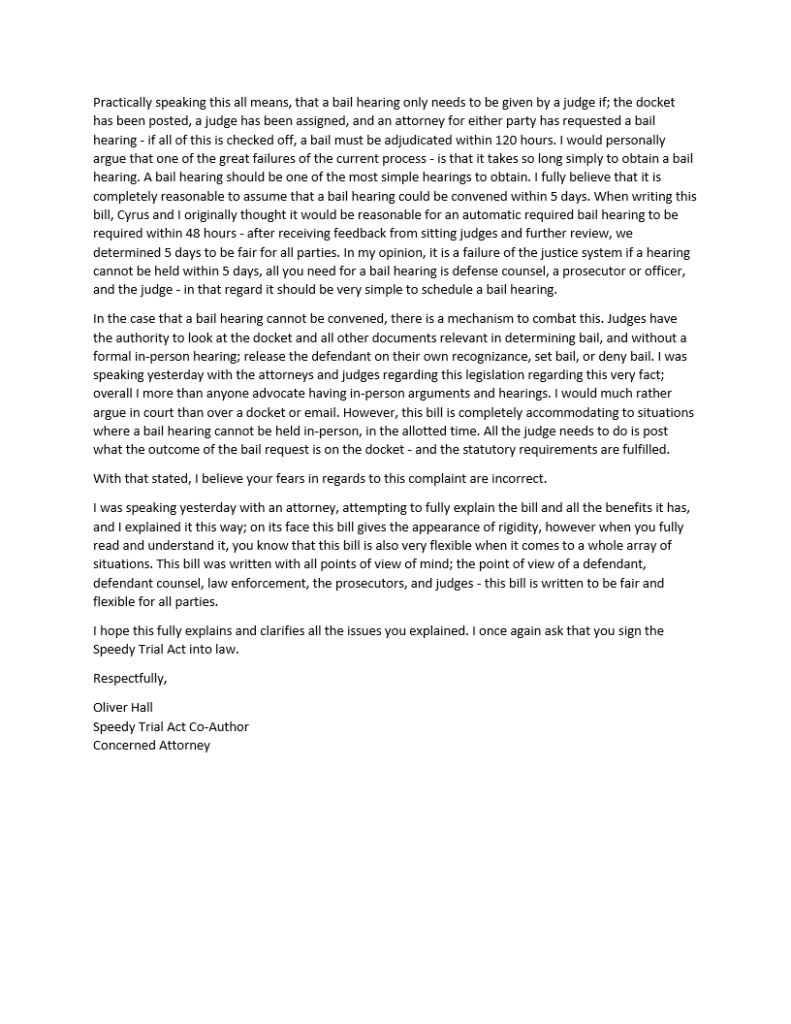 Governor Paxton's response attempted to correct this egregious error on Mr. Hall's part, reminding him that speeding is not considered a "violent crime", a term that is strictly and clearly categorized within the state's penal code. To further clarify his position, he specifically proposed three changes:
Explicitly including active bail violation as a reason by which citizens may be denied additional bail
Expanding the bail violations to include violent crimes (where the original bill would only deny bail for murder, treason, or terrorism)
Allowing the Judiciary to extend the five day timeline for hearings only in the case of accommodating scheduling conflicts.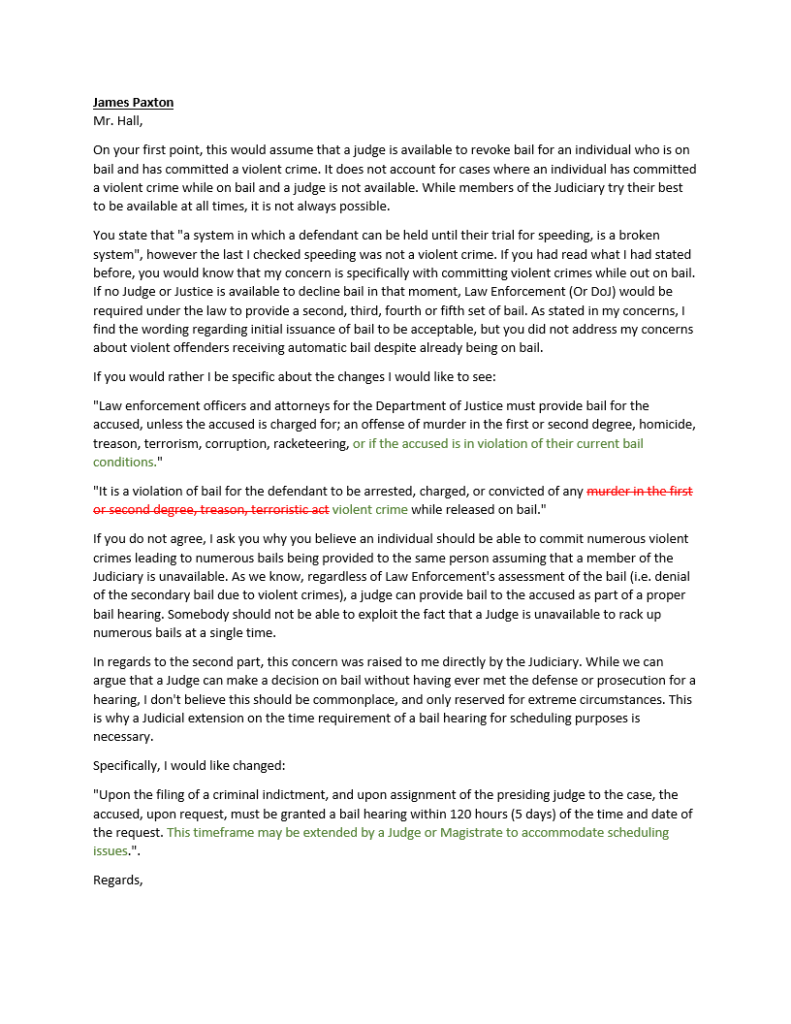 As you can see, the Governor very reasonably believed that, for example, someone who is out on bail and gets arrested for kidnapping, a violent crime, should not be offered the opportunity to obtain subsequent bail for that crime as well. Instead, he argued, they should be found in violation of their original bail, having it revoked and further bail denied. Oliver Hall, candidate for Lt. Governor of this great State of San Andreas, vehemently disagreed with this proposal.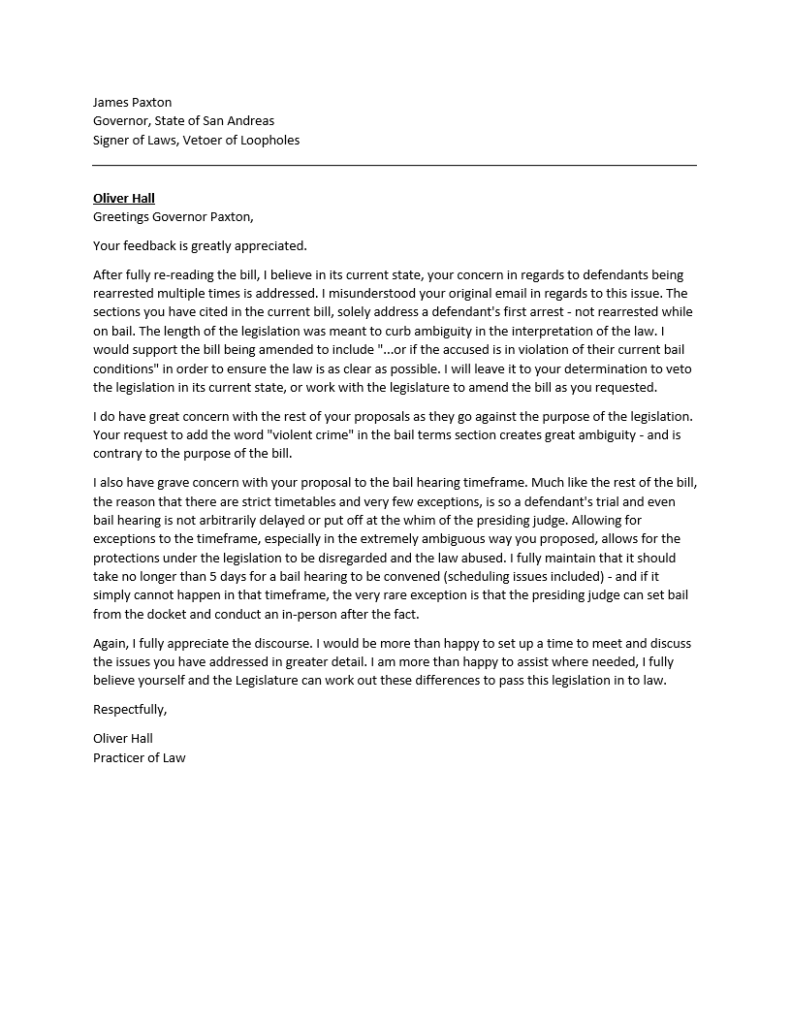 Cole Gordon's running mate, faced with the opportunity to come to an understanding of the Governor's concerns, instead chose to double down on his position, claiming that the original bill fully addressed any and all loopholes regarding bail conditions. Instead of offering to work with the Governor to find a solution as a co-author, he instead gave up, leaving it to the elected government to sort it out amongst themselves.
I will leave it to your determination to veto the legislation in its current state, or work with the legislature to amend the bill as you requested.

Oliver Hall
However, he didn't leave it alone there. Mr. Hall, a self-proclaimed "Practicer of Law", asserted that he had "great concern" over Governor Paxton's suggested amendments. In fact, he said they ran "contrary to the purpose of the bill" entirely! He alleged that the phrase "violent crime" was too ambiguous to be written into the bill, despite the fact that he, as an experienced lawyer who's worked extensively as both a public defender and a prosecutor, should have known that the San Andreas Criminal Code specifically utilizes this term with an entire section full of charges devoted to it.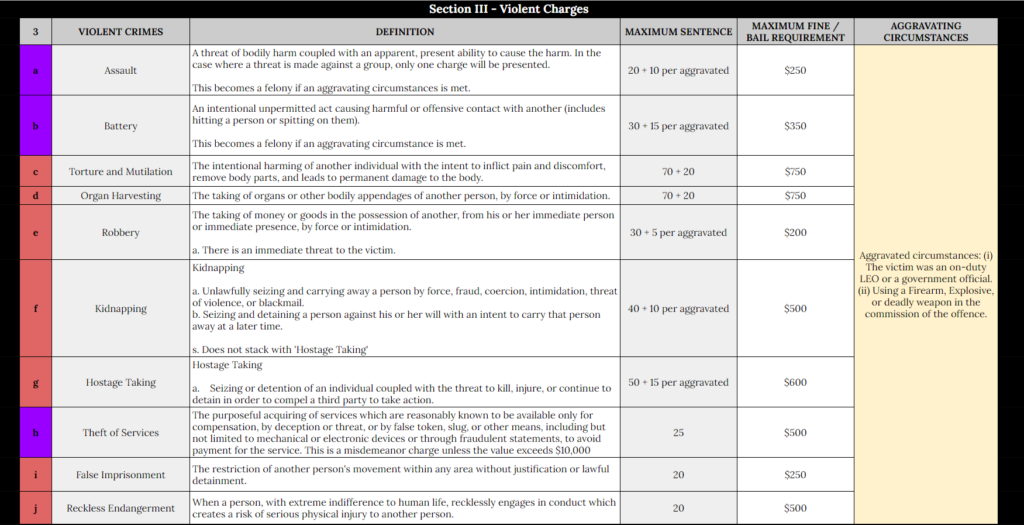 As a lawyer himself, of course, Governor Paxton knew this when he made the suggestion, and he endeavored to point this out to to the woefully uninformed Oliver Hall. He gave another clear example of why amendment to the bill was necessary, and in a show of good faith also offered to compromise on his other request by suggesting the available extension for scheduling issues be limited to an additional five days, which would result in no more than ten days for all bail hearings to take place.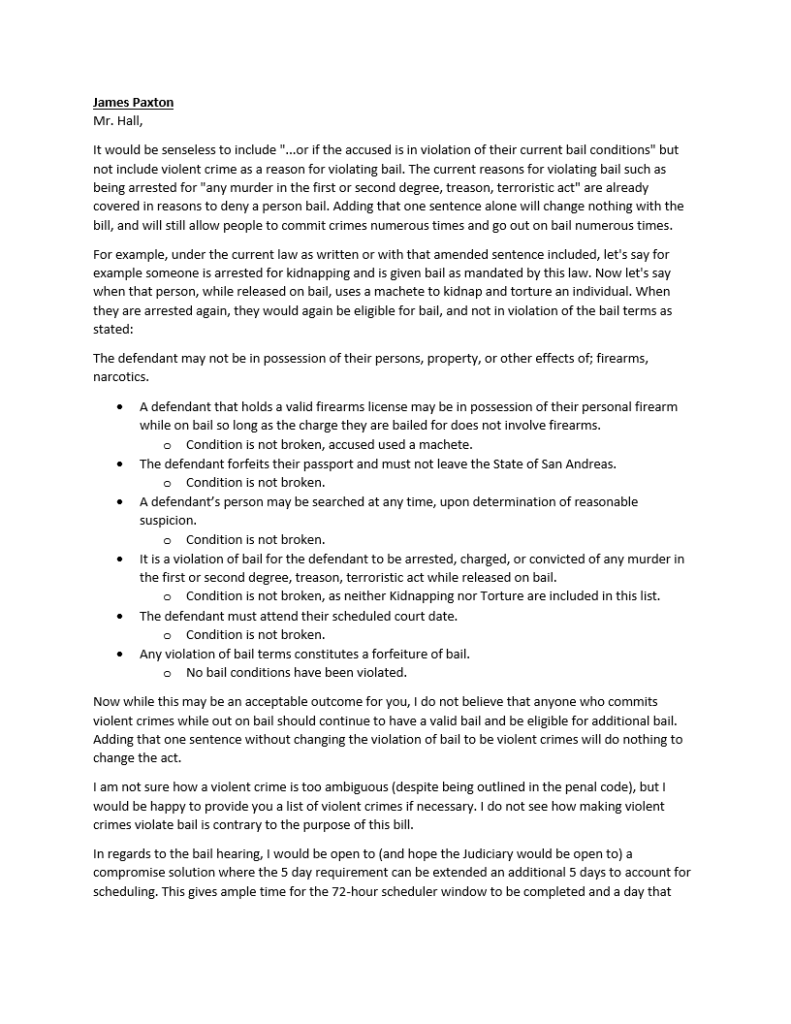 I hear your concerns, but I do not agree whatsoever.

Oliver Hall
Despite the lengths the Governor went to explain the issues with allowing individuals to commit violent crimes while out on bail, Oliver Hall continued to dig into his position. He felt that law enforcement officers should be forced to contact a judge every time they arrest someone for a violent crime, just to request a possible change in their bail conditions that would prevent them from committing said crimes after having been granted a temporary release from prison. He further claimed to not know what criminal offenses were classified under violent crime, despite his own experience as an attorney and having just been told by the Governor where to find them.
If you have a list of offenses you would like to be classed as a "violent crime", I would love to hear them out.

Oliver Hall
Further, he went on to state that he felt he had already compromised in proposing the original bill, and that any further compromise toward the requested changes would be a "very slippery slope that the Speedy Trial Act is meant to protect against". He accused the Governor of trying to "maintain the status quo", a claim he's also made many times on the campaign trail against his opponents, Vlad Tod and current Lt. Governor Karmen McKenzie. However, it seems the status quo he's fighting against is…the ability for the State to prevent repeat offenders from continually being released on bail while stacking a spree of violent crimes and terrorizing our citizens. Is that really something San Andreas needs more of, Mr. Hall?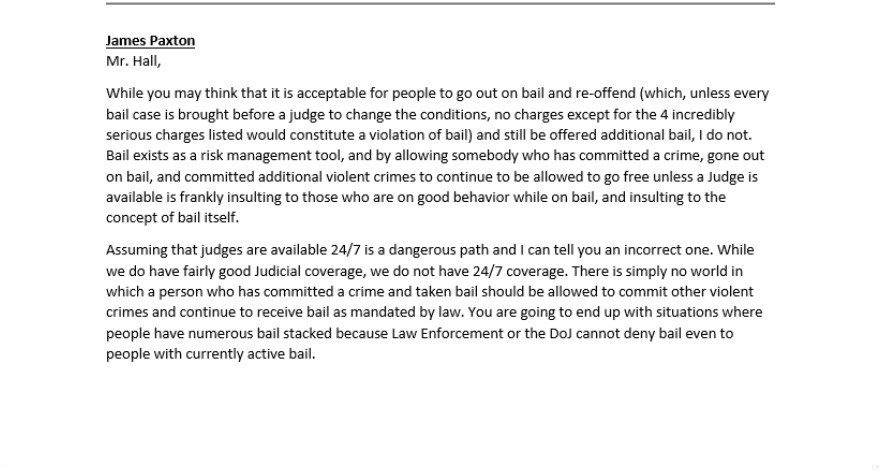 In their final exchange of emails, Governor Paxton once again implored Oliver Hall to consider protecting the citizens of San Andreas from serial offenders who "go out on bail and re-offend", instead of solely championing the arduous and unachievable process which the Speedy Trial Act proposed for the changing of default bail conditions. Despite his belief that it was an "overall good bill", the Governor maintained his intent to veto the original version given the lack of concern showed by the authors for the loopholes inherent to the Speedy Trial Act. He was unwilling to sign a bill that would make it easy for re-offenders to obtain bail for subsequent violent crimes, and it appeared they were in strong disagreement on this point.
One of the main purposes of this bill is to make it easier for defendants to obtain bail.

Oliver Hall
Mr. Hall maintained his stance that the bill was perfect in its current form, again reiterating his own legal inexperience by not knowing what constituted a "violent crime". He went further, however, to accuse the governor in engaging in "a petty and ludicrous swat at my character and beliefs", demonstrating his lack of respect for the concerns being raised. Finally, he reiterated that he would leave it to the Governor and the Legislature to "ensure that this legislation passes", wanting no part himself in amending the bill.
Sometime after this exchange took place, Representative Nash did, in fact, propose an amendment to the bill on Saturday, January 8th. This amendment gained the Governor signature today, because it made several changes aligned with his requests, including:
Allowances for a continuance of up to five days for bail hearings, subject to specific exceptions including scheduling issues
An explicit statement that further bail may be denied in the event of existing bail conditions being violated
An expanded list of offenses that would violate the default bail conditions, including the violent crimes "described under Article III of the San Andreas Criminal Code"
So, it seems, the Legislature did have the will to consider Governor Paxton's requests and address them, or at least it could be said of Representative Nash (the amendment has not yet been brought to a vote). However, the steps to get there were not as rosy as Cole Gordon described in his debate statement, where his campaign took credit for the amendment despite the truth being quite contrary. As a co-author of the Speedy Trial Act, his running mate Oliver Hall repeatedly stonewalled the Governor's requests, expressing disdain for the concerns being raised. He demonstrated his own apparent incompetence as a lawyer by repeatedly failing to recognize that "violent crimes" is a specific class of offense defined in the San Andreas Criminal Code. Further, Mr. Hall saw no issue with the fact that the bill he authored would force the State to repeatedly seek special, amended bail conditions to stop individuals on bail from committing crimes such as Torture and Mutilation, Kidnapping, and even Organ Harvesting!
Citizens of San Andreas, this is the man whom Cole Gordon felt was qualified to run beside him in this election. Of course, despite claiming that he only now supports the amendment, Mr. Gordon himself signed the petition attempting to force the Governor's signature on the original version of the bill, so he clearly saw no problems with it prior to Governor Paxton's response. As a co-author of the bill, where was Oliver Hall in seeking the perspectives of the judiciary and law enforcement? Why did the Legislature, which includes three incumbent candidates in Becks Lawson, Endeavour Jackson, and Mohn Nash (who proposed the original bill), decline to discuss their proposal with the government agencies most impacted by it? Why did it fall to Governor Paxton to initiate these stakeholder discussions only after the bill landed on his desk, having to fight tooth and nail against unreasonable opposition from the Cole Gordon campaign to gain a reasonable amendment to this legislation? These questions and more will weigh on us as San Andreas heads to the polls in the coming days.