Governors Cabinet Grows as Nominees are Sworn in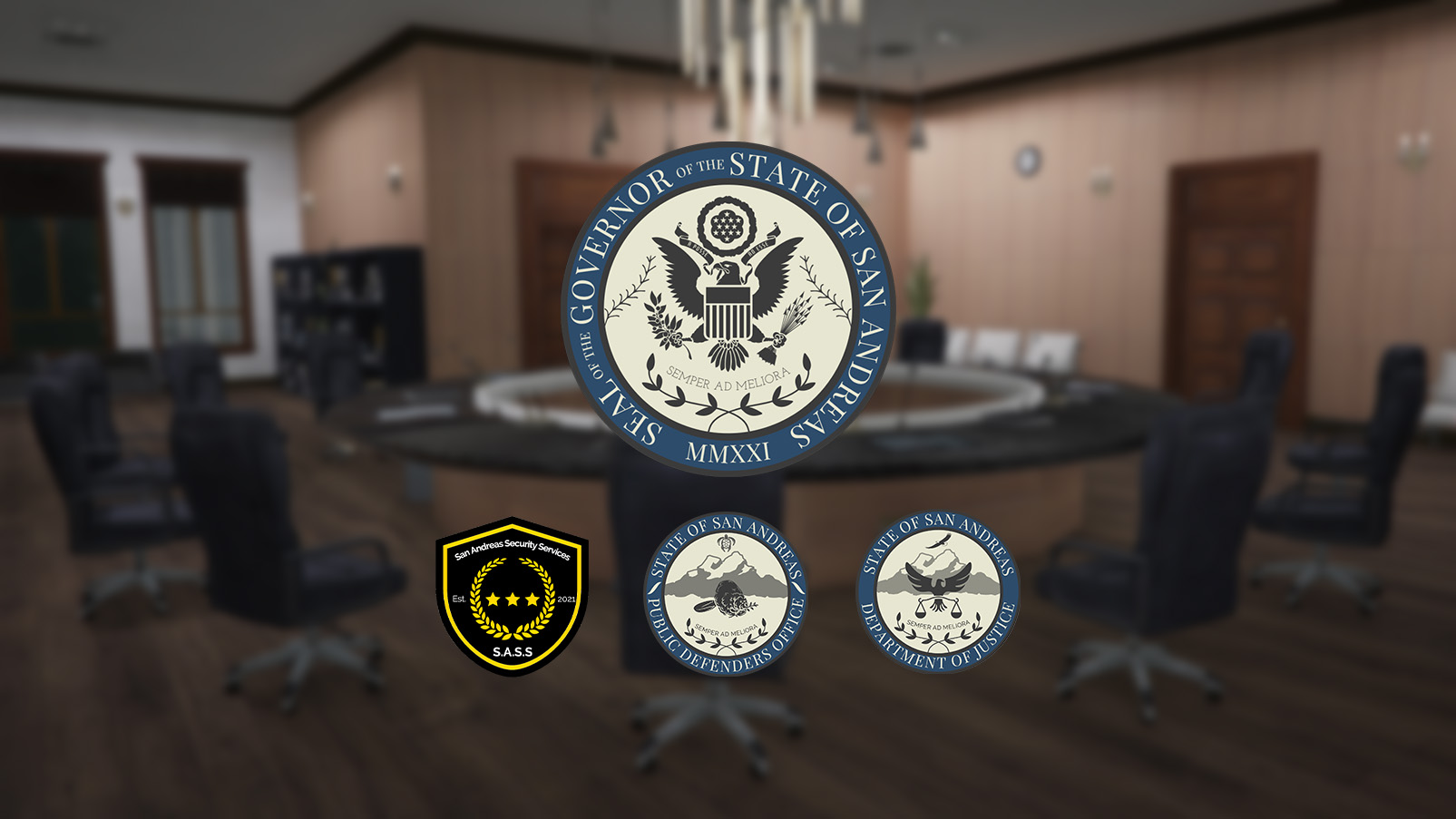 Los Santos, San Andreas – Governor Starr and Lieutenant Governor Jax, now nearly a month into their elected term, are close to filling every nominated and appointed position within the Executive Branch. This shift in leadership occurs every term and generally reflects a specific Governor's values, as well as their commitment to continuously improving the state. Here are the current held positions:
On September 11th, 2022, Governor Starr appointed Abigayle Moore, a local business owner, as his Chief of Staff. Moore will be responsible for providing his day-to-day schedule and other internal needs. Former Governor McKenzie was also appointed the Chairman of the San Andreas Board of Education on the same day, which had been a vacant position for some time since former Chairman Cecillia Burton relinquished it. She will be responsible for curating education standards within San Andreas.
Liam McGrath was nominated for State Attorney by Governor Starr on September 10th, 2022, mere hours following his inauguration, to replace Joana Poole, who was elected as a State Representative. Prior to being nominated, Mr. McGrath was a Senior State Prosecutor with a neutral reputation. As a prosecutor, he was responsible for representing the government and the State of San Andreas in legal proceedings. He was officially sworn in on September 21st, 2022 at City Hall by Chief Justice John MacLamar.
As State Attorney, McGrath will be responsible for upholding state laws and enforcing legislation to maintain the safety of the People's inalienable rights. He will also hold the greatest authority over state prosecutors, supervising their day-to-day work.
McGrath had a statement for Weazel on his game plan for the department:
"The Department of Justice is dedicated to protecting the rights of every citizen of the State of San Andreas, and has always been and always will be a zealous advocate for those who find themselves a victim and will tirelessly pursue justice on their behalf. The Department of Justice strives for continuous improvement in every aspect. The department's plans for the future include a multitude of things, but one of our most immediate and main goals is hiring and training a new generation of paralegals to join the department. It is important to me that there is a focus being put on training. The Department of Justice has always been a place of congregation for those that wish to start a career in law, and I wish to help grow that reputation and ideal. I intend to implement more thorough training programs for those that join the department and offer them an environment conducive to learning and understanding. Those who find themselves a victim to crime deserve closure and to see that true justice is delivered to those who committed such acts. The Department of Justice will continue in its pursuit for justice and due process, and it will overcome every obstacle laid before it."

Liam McGrath, State Attorney
On September 10th, 2022, Governor Starr nominated Frederick Montgomery for the position of Director of the San Andreas Security Services (SASS), which Starr himself had vacated upon election. Prior to being nominated, Montgomery had held a position as the Warden of Bolingbroke Penitentiary. He was officially sworn in on September 25, 2022 by Chief Justice John MacLamar.
While serving as the SASS Director, Montgomery will be responsible for maintaining all institutions and administration under state security. He will also manage the strategic direction for all related departments: court security, prison security, the Department of Corrections, and hospital security.
In an official statement to Weazel, Montgomery gave his current plan of action:
"SASS is continuing to operate as normal, Focusing on hiring and training for a more even coverage. Currently SASS is introducing a CERT program (Corrections Emergency Response Team). The CERT team is a tactical group specifically designed to operate in the specific conditions of the prison, they will be specifically trained to deal with inmate management during riots, hostage negotiation tactics, room to room clearing and operating class two weaponry. There are a few more things SASS has in the pipeline, but unfortunately I cant comment on these things until some more details are ironed out."

Frederick Montogomery, Director of San Andreas Security Services
Drake Paxton was nominated for the position of State Public Defender on September 23rd, 2022, making him Governor Starr's latest Executive Nomination. He was officially sworn in on October 2nd by Chief Justice MacLamar.
Paxton is a former Chief Justice, a position which holds the greatest authority over all San Andreas courts. Prior to being nominated, he owned private law firm Paxton & Paxton. While holding the position of State Public Defender, he will be responsible for supervising the Public Defender's Office (PDO). The PDO provides representation for those unable to hire a private attorney during criminal court proceedings.
In an official statement from Public Defender Drake Paxton, he detailed plans for the future of his department:
"First of all, we're building up a lot of the policies and procedures within the department, which include one of my biggest goals – really making Paralegals within the department shine. It's very important to me that the Public Defender's Office, often a first stop for someone interested in eventually becoming an attorney, provides an excellent education and experience to those passionate about learning the law. It was one of the biggest complaints of the members of the department when I came in, and I want to make sure it's a priority going forward. The opt-in program is a core part of the Public Defender's Office – utilizing the fantastic law firms around the State to help the needy people of San Andreas, ensuring they not only have an adequate defense, but a fantastic one. Everyone deserves their rights protected, whether you're a millionaire landlord or casual bartender or tattoo artist living paycheck to paycheck. We certainly have a lot of plans for the department and we are all working together to make it a department that all other departments envy."

Drake Paxton, State Public Defender
Paxton has readily joined criminal court proceedings, having had his office retained multiple times already this week. Recently, he also notably employed San Andreas' first elected Governor and former Chief Justice, Andrew McKinley, as a public defender. McKinley is accredited for having helped build the foundations of San Andreas' current legal system.
The only executive position to remain vacant is the Secretary of State. This position has varied, but ultimately they handle press, public statements, management of the executive's schedule, and the San Andreas Major Events Committee. Governor Starr has expressed that those interested in the position contact Lieutenant Governor Adrian Jax with a letter of interest. The letter of interest should detail your qualifications, skills, and experiences.