Taking A Bite Out Of Los Santos #2: Cream Pie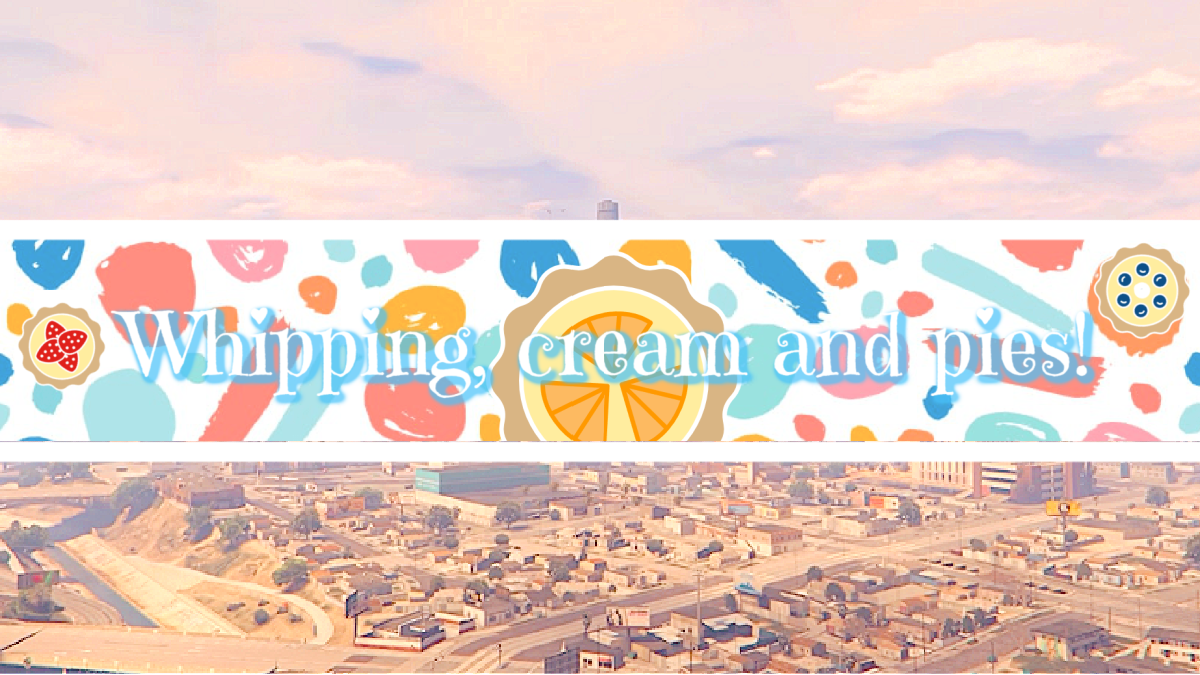 In today's featured foodie piece we at Weazel news present the newest addition to the "Taking a bite out of Los Santos!" series. Whipping, cream and pies! Featuring an interview with a worker at the dairy infused establishment as well as the owner and snaps of the facility. 
Is there anything you'd like to say to the people of Los Santos?
"Remember Los Santos, there is plenty of cream to go around."
What made you choose the theme of the place that you did?
"Well actually the business was created from the ground up by my late wife; she owned it before me. Many knew her as Dodie Lycan before she took my last name of Waters. She came up with the theme, the name, and everything. I first met her when I moved here, and one thing led to another really. Sadly when she passed, she was no longer around to run the business, so I took over and have been trying to make her memory proud. I strongly believe my wife's spirit has never left the place.
With all the tongue in cheek jokes, it was just the way she was: Her style of humour and, after getting inspiration from friends, she just ran with it. And I like to think she did a damn good job at it."
What brought your wife to open the place?
"She bounced back and forth with ideas and finally settled on a restaurant, so here we are today. I have tried to keep true to her original values when she started it, and that is that Cream Pie values customers' and workers' safety and feeling comfy. I have even in the past changed the names of our food items for customers when ordering or simplified them because it made them feel uncomfy. So, we really do try to go above and beyond to make sure everyone can enjoy the space. We are a family as we all take care of each other."
What is the vibe you are liking to try to create?
"Fun, chill and not too serious, lighthearted, so you can sit down and have a joke with both staff and customers alike. Just hang and vibe really."
Weazel News also had a chat with one of Mr. Waters' employees, Monica Mocaw.
How long has this place been open?
"Unsure but long enough to be a stable place because everybody loves to come here."
What brought you to work here?
"I am very creative and the best car designer in the city. I love sweet stuff and wanted to get down and dirty with creamy cream. Roscoe is really nice, and there is a really hot girl that works here called Iri, and I want to make out with her in the kitchen."
The Observer nearby also said she wants to get her cream on as well!
What would you describe the vibe here like?
"An inclusive environment for sexuality exploration and chillness while having yum yums in your tum tums."
What is your favourite item on the menu?
"Cherry popper because I like to put my tongue in the hole and lick out the cherry stuff and then the pucker up because it cleanses my palette."
Cheapest item for savers?
"Everything is affordable but I would buy anyone something to eat if they couldn't afford it and were really hard on money as a kindness if they couldn't afford. I don't want anyone else to suffer, as I have been there before. The cheapest items I would say are the glazed buns or nookie kookie which is 75 dollars, and a drink that is 10 dollars is squirt of cream."
Have you experienced any violence? If so, how much/care to elaborate?
"The day before I was hired, it happened. My amazing boss was able to fend them off, though! Roscoe has the moves of a special forces ninja, he moves with the wind; so much so, some call him the airbender."
Monica also wished to leave some parting words before the end of the interview:
"I would like to say Creampie is the best place I have ever worked apart from auto exotics. Mr. Roscoe is amazing and the cream pies are nice and sweet and creamy and stuff, all natural! And I am also really sweet, I seal all my food with love and I am also giving out hugs!
We have cherry poppers, if you have never had your cherry popped it's a great place to get that done because we are professionals."
Allergy and Dietary Requirements Information:
"All natural, GMO free, organic, and only the best and freshest ingredients are used."
Pictures of the establishment:
Do you or your business have something related to city life or foodie interests you'd like to talk to Weazel News about? Contact Evaine Delaney on 8359385850.