Dealer Picks Up The Tab At LSD Town Hall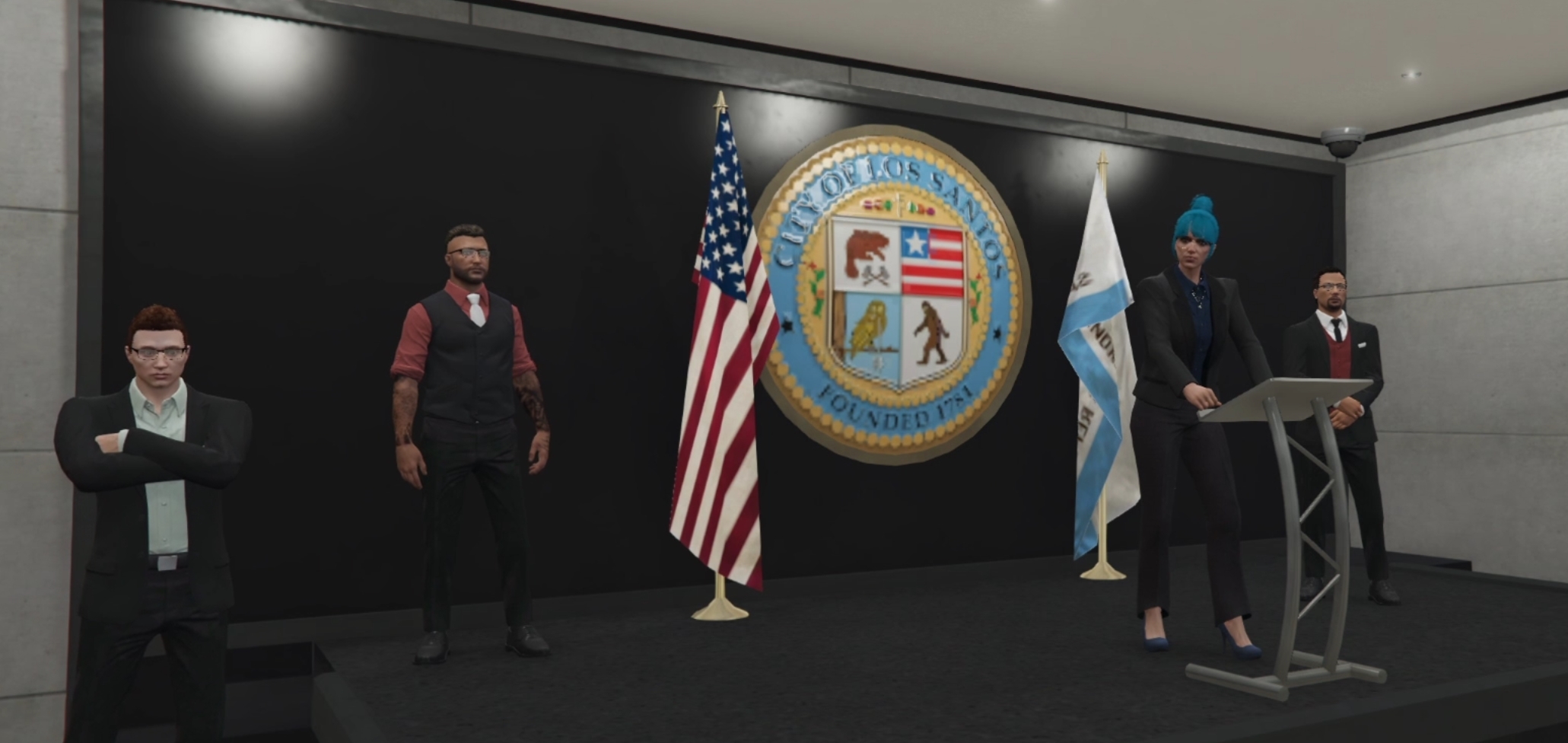 Los Santos, San Andreas – Saturday night, City Hall filled with citizens, politicians, and health officials to discuss the topic of LSD. State Representative Becks Lawson, joined by Department of Human Services head Dr. James Wilson and colleague Dr. Ash Williams, hosted the town hall for the purposes of an open dialogue on the relatively new drug. While it's unclear what prompted the need for such an event and Representative Lawson never clarified the background, it was made clear that the government has suddenly decided it needs to regulate LSD.
State Representative Hudson Welsh, as well as many community members in attendance, raised questions and concerns about the need to have this discussion at all. The doctors who joined Representative Lawson on stage appeared as unprepared to justify the town hall as she herself was, leaving audience members more confused than when they arrived. There appeared to be many pieces of conjecture and theoretical concerns the government agencies have, but they were unable to provide any sort of concrete facts to show that their concerns had born fruit within the state of San Andreas. According to our colleagues at CNT, Representative Lawson was even unable to provide specifics after the town hall, simply stating "We were having public health issues because of it."
Weazel News was in attendance to record the entire town hall for our readers to watch for themselves.
Near the end of the town hall, an unknown man spoke up offering to sell LSD to anyone in attendance that wanted to experience it for themselves. Despite Representative Lawson's concerns that the event would devolve into violence, this man was quite civil and forthright, leaving the building when he was asked to vacate the premises. At the conclusion of the town hall, Weazel News caught up with the man, who identified himself as Anthony Foster. He shared his thoughts from the perspective of an LSD dealer currently operating in the state.
Will the events of this town hall lead to new regulations on LSD, or even legislation banning its consumption or distribution? It's unclear at this point, but citizens with an opinion on this new party drug should reach out to their elected officials and medical professionals to engage on the process. The government exists for your benefit, so exercise your civic engagement!