Debate Analysis: Josh Zimmerman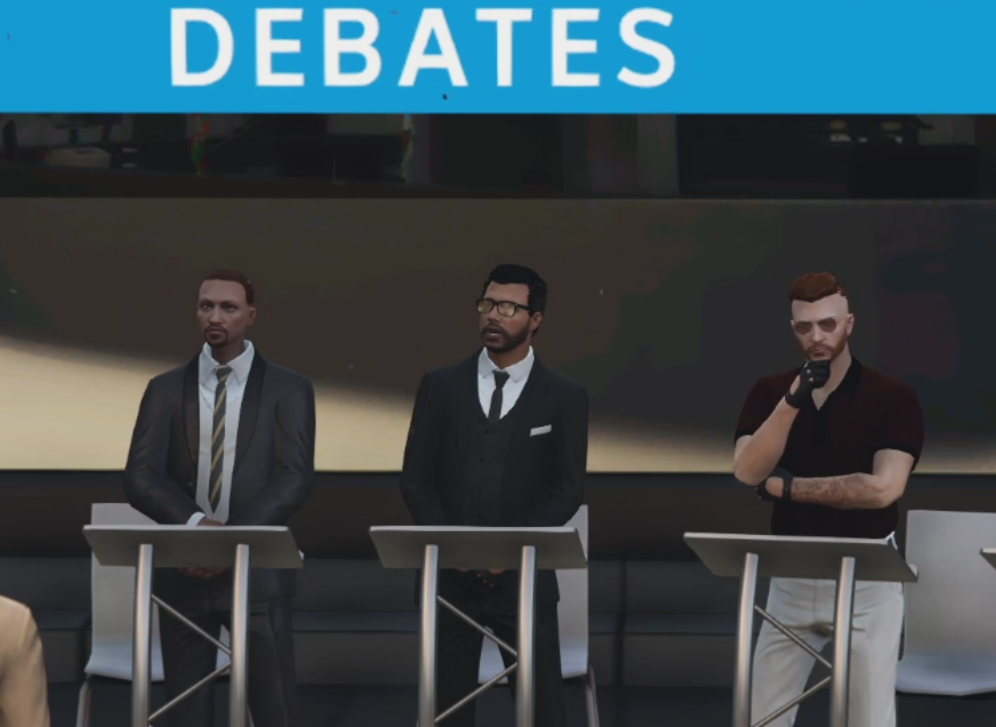 Los Santos, San Andreas – With each candidate at Sunday's State Representative Debate being asked two direct questions, it falls on us to now dive into the debate performance of Josh Zimmerman. Mr. Zimmerman is currently a Commissioner of the Department of Commerce & Labor, having been deeply involved in its operation for quite some time now. As such, it's no surprise that the first inquiry posed by the debate moderators touched on the relationship between private business and the government.
How can the government better support the business community while considering the current economy and the state's budget?
Candidate Zimmerman felt that a key component of supporting businesses and enabling them to be successful is listening closely to their needs. He pointed out that many business owners have problems they deem too small to voice publicly, so those problems tend to fester when they may be relatively easy to address if brought to the appropriate government agency. As such, it's the government's job to proactively seek out these perspectives rather than expect all the problems to simply land in their lap.
On the flip side, however, Mr. Zimmerman suggested that businesses who feel they need a voice to speak directly to the government should endeavor to form a true Chamber of Commerce that represents private commercial interests instead of relying on the license- and tax-focused Department of Commerce & Labor to perform double duty in that regard.
Jacob Wheeler concurred that the responsibility for forming a Chamber of Commerce to lobby on their behalf does in fact fall to business owners. However, he referred back to the creation of a Business Liaison position within the Department of Commerce & Labor that was formerly filled by Castor Taylor but now sits vacant, questioning its abandonment. In response, Candidate Zimmerman pointed out that the central government created that position, and thus it fell to the Governor to appoint a replacement. This distinction was important to avoid the appearance of his department appointing their own friendly liaison who would not lobby effectively on behalf of the public.
Mr. Wheeler also questioned how the funds collected by the Department of Commerce & Labor are being distributed, as well as the apparently lack of transparency for business owners in how their taxes will be utilized. As Commissioner, Josh could only speak to what his own department brings in, as the current government lacks the inter-department communication to give him insight into the funding of other agencies. He did agree, however, that increased transparency would be helpful.
Several candidates asserted that Mr. Zimmerman should know exactly how much funding the Department of Commerce & Labor bring into the government each month, but it was Kaori Prince who suggested that the establishment of a Treasury Department (expanding on Mohn Nash's current role as Treasurer from within the Legislature) would be more appropriate to provide transparency and better organize the government's funds. Alwin Ozias felt that creating a new department would be "nonsense", and that better resources within the Department of Commerce & Labor would be more appropriate.
With Travis Ray alleging that business taxes today are far too high, Commissioner Zimmerman referred back to the state's history where taxes were even higher than they are today. He brought up his role in fighting for more reasonable business taxes as the state grew and became more well-established. He admitted that the business economy is always in flux and will never be perfect, so they have to be prepared to make adjustments according to the current state of the economy. In his opinion, the sectors most in need of attention today are the food and hospitality industries.
What can the State do to better support medical services in the State of San Andreas?
In addressing this second question later in the debate, Candidate Zimmerman felt it was important to listen to not just the head of each medical department, but also the other ranking leadership beneath them. He referred to his own personal experience hearing about alleged miscommunication and "pettiness" within those departments.
Everyone that works there is an adult. They can talk to each other; they can explain themselves without needing to resort to pettiness. I feel like it's a simple fix.

Josh Zimmerman
Incumbent Representative Lawson opened the rebuttal portion by speaking to her support of the Dr. James Wilson and his work leading the Department of Human Services (DHS). She felt they provided a critical expansion of Mount Zonah's services and that DHS offered a blueprint for additional specialties to surface within our healthcare system. In particular, her next term would be focused on "addiction treatment and therapy", recognizing that the core team of trauma doctors at the hospital are not specialized in this kind of care.
Jacob Wheeler, owner of a private security company, is quite familiar with the emergency medical services provided by the government. In that capacity, he agreed with Mr. Zimmerman that communication issues seem to be a problem within the current healthcare system. In particular, he questioned why morgue services allegedly take priority over living patients who come into the hospital, saying that he's had to wait for treatment in the past.
Candidate Zimmerman also brought up the frequent lockdowns at Mount Zonah, preventing citizens from seeking treatment due to ongoing crises that keep occurring at those facilities. His campaign would propose to partially reopen other hospitals within the city like Pillbox Medical, for the purpose of providing emergency treatment when Mount Zonah itself is shut down due to an emergency. Travis Ray followed up on this by alleging that a Freedom of Information Act request he submitted regarding the established threat levels at Mount Zonah was met with a "very curt 'we don't have to answer this' response". He claimed the hospital doesn't believe their internal threat assessment policies impact the public.
Mr. Ray also pointed out that while Pillbox Medical was condemned for a reason, there are two other active medical facilities throughout the state, in Sandy Shores and Paleto. However, Josh Zimmerman was quick to point out that a patient experiencing a heart attack can hardly divert from the city across the entire state to seek treatment; they need access to medical attention immediately. He felt that another facility within the city should be made available within Los Santos itself to address this issue. Jacob Wheeler chimed in to point out that current staffing levels would not support an expansion, so that would need to become a priority. Travis Ray closed the question by asserting that medical certification should not be solely the purview of the Surgeon General (currently Maggie Martindale), but that additional doctors should have a hand in that process.
Debate Performance
Josh Zimmerman's performance on these two debate questions was admittedly a bit of a mixed bag. The first topic fell directly within his expertise, and he performed admirably, fielding the questions of other candidates with skill and laying out a foundation for future success. On the second question, he seemed a little more out of his depth. Mr. Zimmerman was able to articulate some of the problems he sees with our medical services today, but his proposed solutions spawned more questions than answers. Still, he was quick to adjust and participate in the discussion, which bodes well for his ability to work effectively with other legislators were he to be elected. Do the voters agree with his stated positions? We'll find out in just a few days' time.