Debate Recap: State Representative Platforms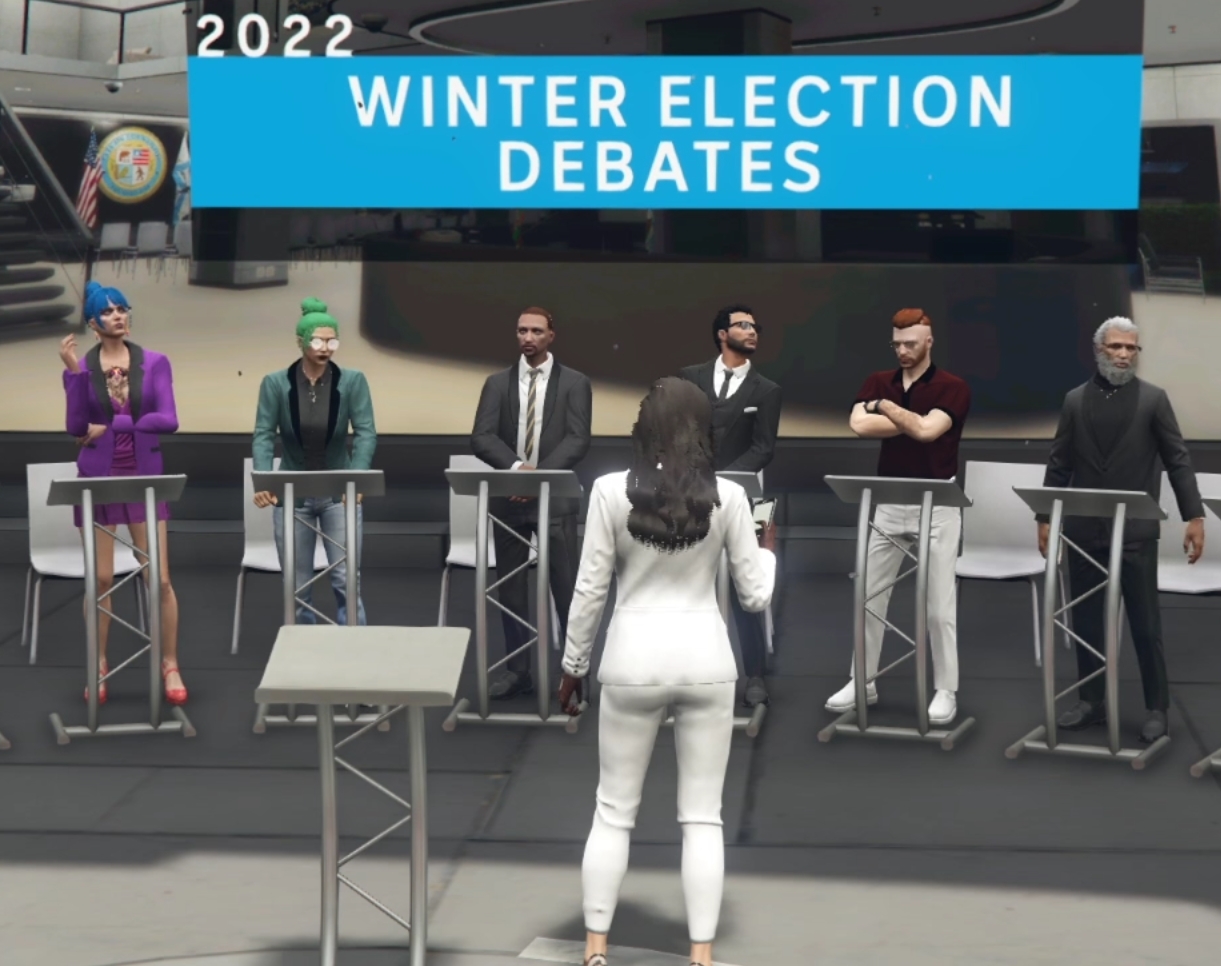 Los Santos, San Andreas – With debate season fully underway, the first public debate took place last night at the Vinewood Bowl. Weazel News was there to broadcast the entire event, bringing you live coverage as it progressed. With the debate behind us, we'd like to look back in-depth at what we learned about each candidate. The first exchange of the night involved six of our State Representative candidates sharing their visions for San Andreas. Since many of those currently running were unable to attend, Weazel News reached out to each of them to offer the chance to submit a written statement for each question that was raised at the event. Some candidates, however, did not produce a clear platform prior to publication. Let's take a closer look at the platforms each of our candidates are presenting.
Alwin Ozias
As the final candidate to state their platform, Alwin Ozias knew exactly where he stood against his competition. The founder of Murdock Law, he focused on local businesses and "social legislation". Among his stated policies were the prohibition of pistol hunting, lower business taxes for charities and non-profits, improved marijuana legislation, and increased funding to benefit the homeless and "mentally ill".
Becks Lawson
The first to provide their platform was Becks Lawson, incumbent State Representative and founder of lifestyle brand Clout. She touted her event planning, particularly the organization of "Kraken's Cove". Representative Lawson has geared her re-election campaign around the creation of additional government organizations like the Department of Human Services, as well as focusing on successful delivery of legislation.
Representative Lawson followed up her debate performance with the following written statement to Weazel News:
Due to the fact that I am not just an incumbent state rep, but the only incumbent rep who has attended all debates, I feel as though the fellow candidates would make better use of this space in order to discuss their values. I believe it is important to elevate the voices of others and to work towards an inclusive press, where all voices have equal time in the spotlight.

Becks Lawson, State Representative
Endeavour Jackson
Endeavour Jackson's campaign did not present a platform for public review.
Grace Stone
Grace Stone's campaign did not present a platform for public review .
Hudson Welsh
Hudson Welsh s campaign did not present a platform for public review .
Jacob Wheeler
Candidate Wheeler, real estate agent and CEO of Merryweather Security, describes himself as a philanthropist. He feels San Andreas needs "smaller government", promising to remove regulations and lower taxes for business owners. He favors bolstering the income of individuals by increasing salary paychecks as opposed to the state's unemployment rates. He plans to work on improving resources and availability for real state sales. On the topic of marijuana legislation, Wheeler supports a legal cultivation industry and the removal of "unnecessary misdemeanor charges" from the state's criminal code regarding the drug.
Jordan Malone
As one of the candidates who was unfortunately unable to attend the debate live, Jordan Malone issued the following statement regarding his platform.
The Summary of my campaign is to help out the economic struggle the citizens of San Andreas endure. Making realistic changes I hope to help out the community if elected. I am running for state Representative because I feel that with the experience so far I have with the public, along with what my goals are, I feel I can help make change overall to San Andreas. I want to help those out in need. I've worked in Vinewood for almost 5 months now and listening to conversations from different groups of people along with attending many events. Hearing these concerns I believe I am someone who can help make that change to the community.

Jordan Malone
Josh Zimmerman
Commissioner Zimmerman, long-time manager of the Department of Commerce & Labor, plans to propose copyright and patent protections for creators. He also intends to leverage his work experience to help businesses.
After each candidate had elucidated their platform, incumbent Becks Lawsons asked Candidate Zimmerman how he would ensure copyright law would be effective without creating undue burden for the State of San Andreas.
Kaori Prince
Candidate Prince wants to re-evaluate the state economy to benefit people of all income levels.
Mohn Nash
Mohn Nash's campaign did not present a platform for public review .
Travis Ray
Candidate Ray credits his experience as an investigative journalist and defense attorney as providing him access to many unique people and perspectives. He's focused on criminal justice policies such as parole standardization, bail reform, and improved prisoner conditions. He believes that economic incentives can be implemented to improve the financial well-being of our businesses. Before running out of time, Ray also mentioned his interest in environmental initiatives.
Tyler Syring
As reported earlier by Weazel News, Tyler Syring announced his withdrawal from the State Representative debate several days prior to the commencement of the event.