Bohan Brings The Tunes In October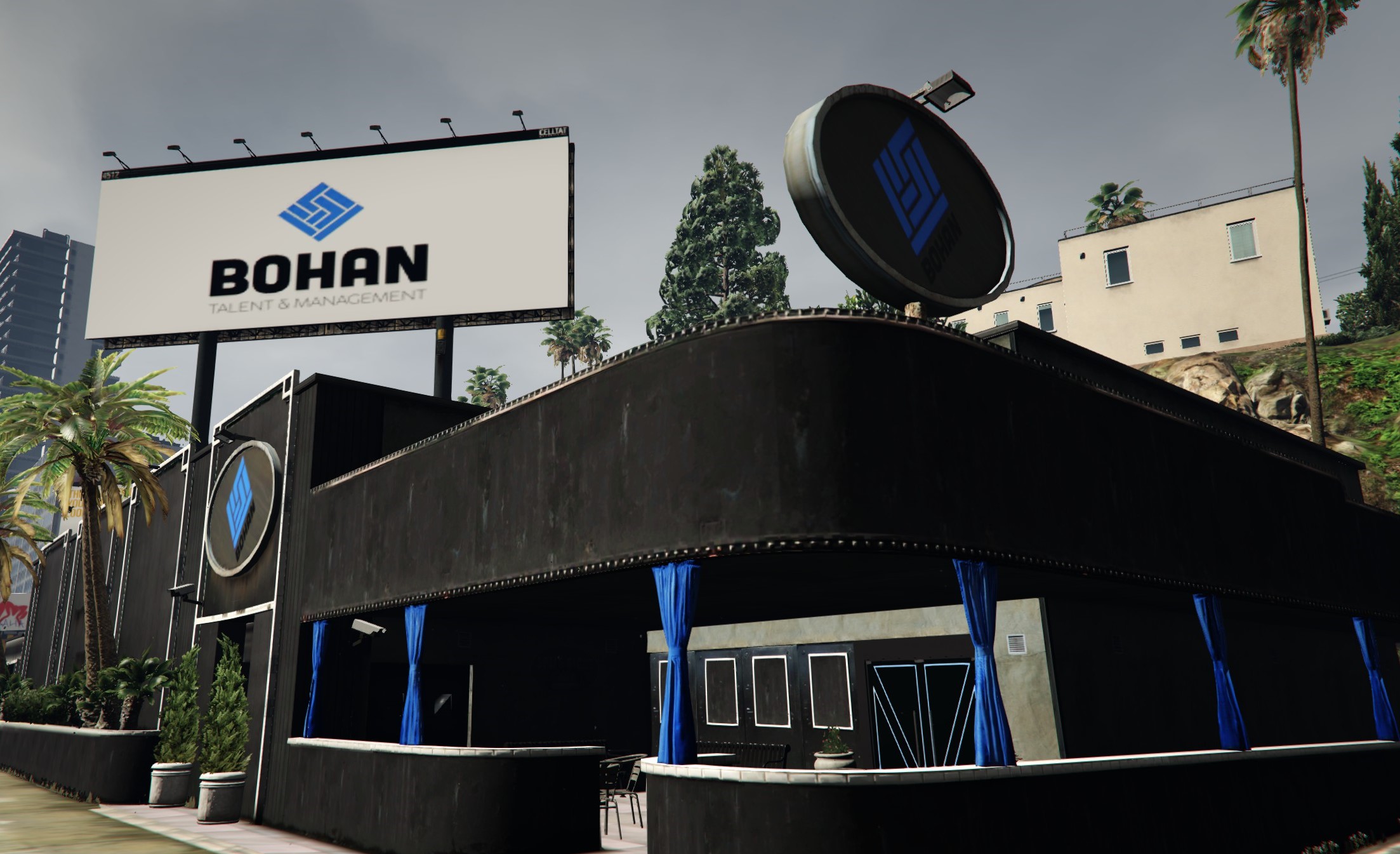 Los Santos, San Andreas – In many people's opinion, Tuesday is their least favorite day of the week. There's still so much time until the weekend, and there aren't many things to do. That is unless you live in Los Santos. There's always something planned in the city on a Tuesday, whether it's theater, performances, or local events. Though if you're looking to make the day count, you've got to go to Bohan.
If you happen to have a soft spot for musical performances – or if you just haven't gotten a chance to visit – one of the best things about Bohan is the chance to see Los Santos' hottest celebrities. It is home to many of San Andreas' biggest stars, including Jason Tanners, Candace "Candi" Kaine, Velma Piper, Piper Riggs, and Konrad Knives. It is possible to find one of these superstars at Bohan on any given Tuesday, ready to make your evening memorable.
In October alone, four live performances took place, one for each Tuesday. Originally, the fourth of October had been planned for a ladies' night, but last-minute cancellations led Jason Tanners to share the stage with Velma Piper. Despite the schedule change, the night went off without a hitch.
Velma Piper began the evening with a set of covers of iconic country songs. Specifically, she sang "Whitehouse Road" by Tyler Childers, "Girl Crush" by Little Big Town, "Tennessee Whiskey," by Chris Stapleton, and "Nothing Breaks Like a Heart," by Mark Ronson feat. Miley Cyrus, and "Why Haven't I Heard From You" by Reba McEntire.
The country superstar acknowledged that despite her experience on stage she still generally feels uneasy during her live performances and is often nervous almost every time she's in front of a crowd. Being on stage in front of an engaging crowd can sometimes make her feel vulnerable, but she mentioned it was getting better.
"I don't feel nervous talking in front of a lot of people, or dancing in front of a lot of people, but as soon as I get to singing… I don't know. Maybe something about it like, when you sing you're really putting yourself out on the line like that. There's nothing hidden about you anymore," she added.
Besides some stage fright, Velma Piper has a rather positive outlook on the future of her career at Bohan. While she's currently only doing cover versions of well-known country songs, Velma has expressed interest in wanting to produce original pieces. That way she won't be, as she said, "at the mercy of pre-made instrumentals."
Jason Tanners ended up covering for Candace "Candi" Kaine, who was feeling unwell at the time. Due to the short notice, he said he wasn't able to prepare a specific set for the evening and just decided to play what came to mind. This included Jason Tanner's "Trying," "LDR" feat. Aiko Arakawa, a metalcore re-imagination of Leonard Cohen's "Hallelujah," and a seven-minute mystery ballad. Humorously, Velma Piper ended up giving a name to the ballad, dubbing it the "Mystery Song."
Jason Tanners did not elaborate on the name or context of the song further than an introduction, claiming that it was a special moment that wouldn't happen again. At this time, there appears to be no plan to release it publicly.
When not performing at Bohan, Jason Tanners supervises as the Director of Talent Production. This includes organizing the Tuesday events and involving himself in the internal affairs of the record label from time to time. With this knowledge, it wouldn't be completely inaccurate to assume he likely had a hand in organizing Open Mic Night on October 11th.
The second Tuesday of the month of October was led by Piper Riggs. While Jason Tanners holds a supervisor position, Riggs often replaces him as a host when she's available to do so and is an adamant supporter of every musician who plays there. Even if that occasionally happens to be participants from the audience.
The Open Mic Night on October 11th reportedly didn't have as many participants as they hoped. Piper confessed that it was irregular and that they typically had more business on Tuesday, but that it was still great to see other well-known artists, like Jason Tanners, and new talent, getting on stage to perform. To help ease any newcomer's anxiety, as well as simply for fun, Piper Riggs made a point to perform on stage.

"I actually played my entire set! As far as my favorite song, it's hard to choose. I wrote all my songs with my Husband as my muse so they all mean a lot to me. It's hard to pick a favorite when they're all about him and he's my favorite. I released a new song called 'The Key' that I wrote for our one year anniversary," she later mentioned to Weazel.
Outside of the occasional hosting, Piper Riggs is a contracted musician for Bohan. She's also reportedly planning a winter event later into the season and a release of a new song sometime this month. In a statement to Weazel, she added that all had been made possible due to supporters of her music:
"I want to thank all of you for your support. I was terrified to release music because I was so self conscious of my voice. I have a deeper voice than many female singers. All of you have been so kind to me and supportive that now, I barely even think about that insecurity. Thank you all for being so amazing. I love this city and all of you in it. I can't wait for you guys to hear my new song in November!"
The 18th of October at Bohan had Candace "Candi" Kaine as the headliner for the event. Kaine is widely known as a professional vocalist and pop star, with an impressive vocal range that she displays at all of her live performances. Some of her original pieces include "The Unseen" and "For Her Hero," which were only recently released earlier this year.
She's a regular performer at Bohan and has been a adamant supporter of their business for several months now. You can look forward to seeing her at the venue again sometime soon.
Konrad Knives finished off October with a live performance utilizing powerful vocals and acoustic guitar. His sets include covers of songs by 3 Doors Down, The Fray, and occasionally, Wicked Games. Notably, he finished the night off with his styling of "Creep" by Radiohead, before wishing everyone a safe goodbye and a Happy Halloween.
Later, he admitted he was surprised at the lack of patrons, but found it enjoyable because he was able to be more intimate with the crowd and engage with them throughout the night.
Knives has long worked alongside Bohan at their events and provided live entertainment for them when he's been available in the past year. Although he isn't currently signed on a Bohan, a contract is said to be in the works. When not working at Bohan he's regularly being hired for gigs such as weddings or local events.
When speaking to Weazel he claimed that he doesn't necessarily stick to any genre when considering what to perform, but tends to steer away from hip-hop and rap. Most of the time he prefers performing with acoustic guitar and matching music to a vibe that best suits the mood. And, according to regulars, he's rarely unable to do so. Bohan holds a special place in Konrad's heart; for him, it's a place to vibe, chill, to let loose. It's also a place that defies people's expectations of him. Some people expected him to fail as a successful musician, but he's more than proved them wrong since then.
In the end, October was a jam-packed month of spectacular talent at Bohan that engaged the public with unforgettable moments from some of Los Santos' most well-known artists. For those who missed out on the month of live performances, you can still regularly visit Bohan on any given Tuesday or check out official announcements to remain engaged.
Bohan T&M's will be presenting Jason Tanners tonight, Tuesday Nov. 8th, featuring #BlackHawk 50-cal Stout! Doors will be opening at 9:30pm EST, with the show officially starting at 10:00pm EST.