Wrench & Spray Spotlight #1: Auto Exotic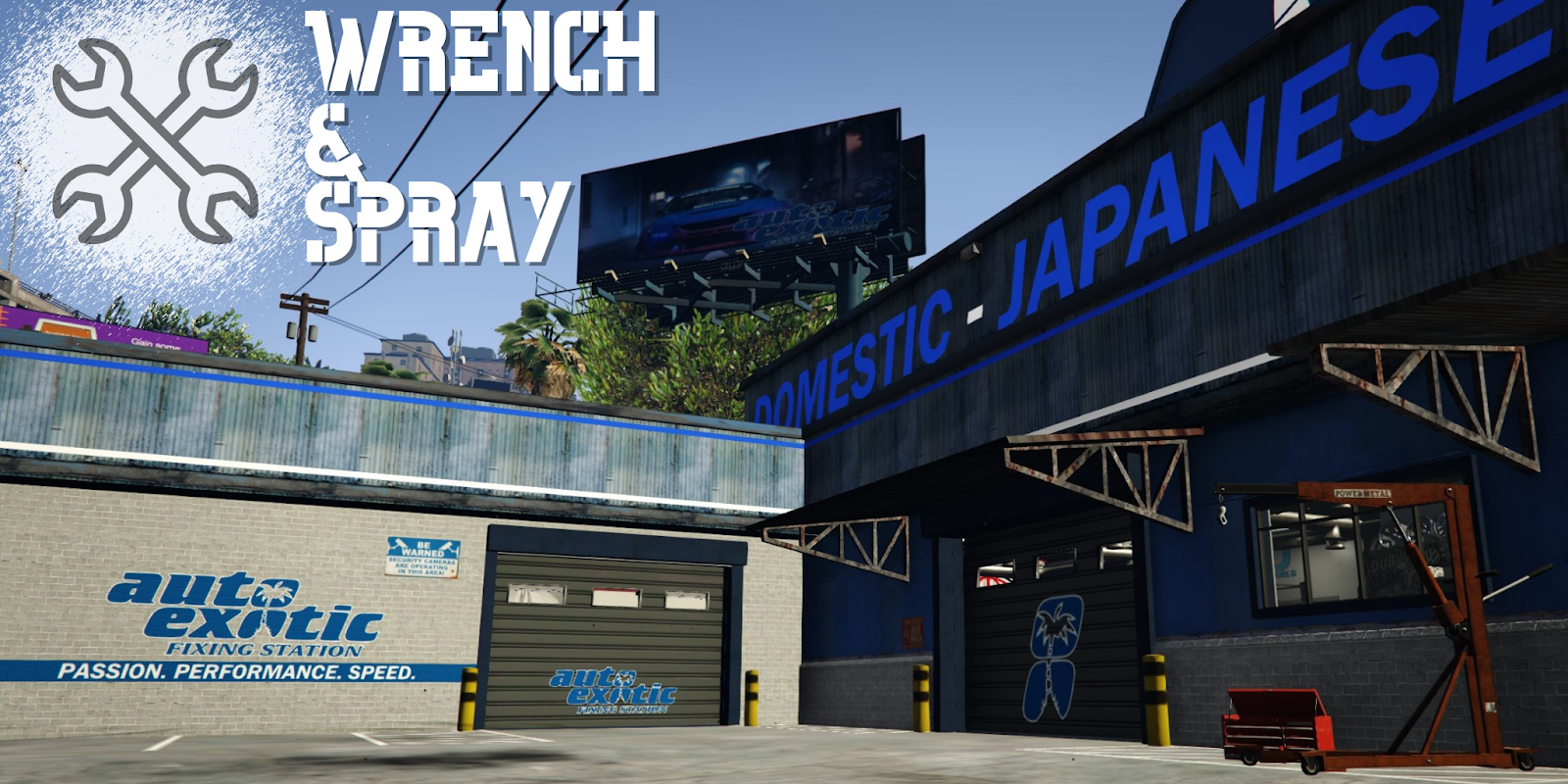 While driving around Vinewood, I began to have some engine trouble, so it was time to find a shop. Luckily for me, I stumbled upon Auto Exotic at the top of the directory, located just around the corner at Spanish Ave & Elgin Ave. When I pulled in, I was met with eager mechanics ready to get me back on the road. While the mechanics were working on my car, I wanted to learn more about this bright blue auto shop. So, I reached out to Auto Exotic Owner Rebecca Damino.
---
Interview with Auto Exotic's Owner Rebecca Damino
When did your shop first open?
"I took ownership of Auto Exotic in January 2022."
Does your shop specialize in anything? If so, what?
"We specialize in custom paint jobs, performance upgrades and modifications."
What makes your shop unique?
"Willingness to do it all, we will drop what we are doing even if we are clocking out to help the customer. We strive to provide a friendly environment."
Rebecca also said they have a "Paint God" that works at their shop who is able to create some pretty incredible combinations of color.
Why should people choose you over the other auto shops in the area?
"I want people to go somewhere you really vibe with their mechanic, whatever shop works for you."
If you could describe your shop in one word, what would it be?
"Excellence"
If your shop was an animal, what would it be?
"Dragon"
Later, I stood outside and talked to a few customers about their experience and why they chose Auto Exotic that day.
Customer Interviews
"I typically come to Auto Exotic with my vehicle because I have had bad experiences with other auto shops in the past. Also, Auto Exotic is more centralized to where I live and work, making it easy for me to get to."
"I came to Auto Exotic because I was just at another shop, and they were goofing off while I waited, no one came and talked to me. I waited there for a few minutes, so I came to Auto Exotic and saw that the mechanic here was ready to work. Every time I come to Auto Exotic, it's top-notch service."
Take away
From my experience at this shop, everyone was friendly and willing to help, even when I took forever to decide on a paint color for my car. Once, I was in a jam and needed a quick fix, the mechanic (who was about to clock off) told me to hang tight, and stuck around to help me out. Talk about top-tier customer service, this shop is not one to miss.