San Andreas Says: The July PolitiPoll Results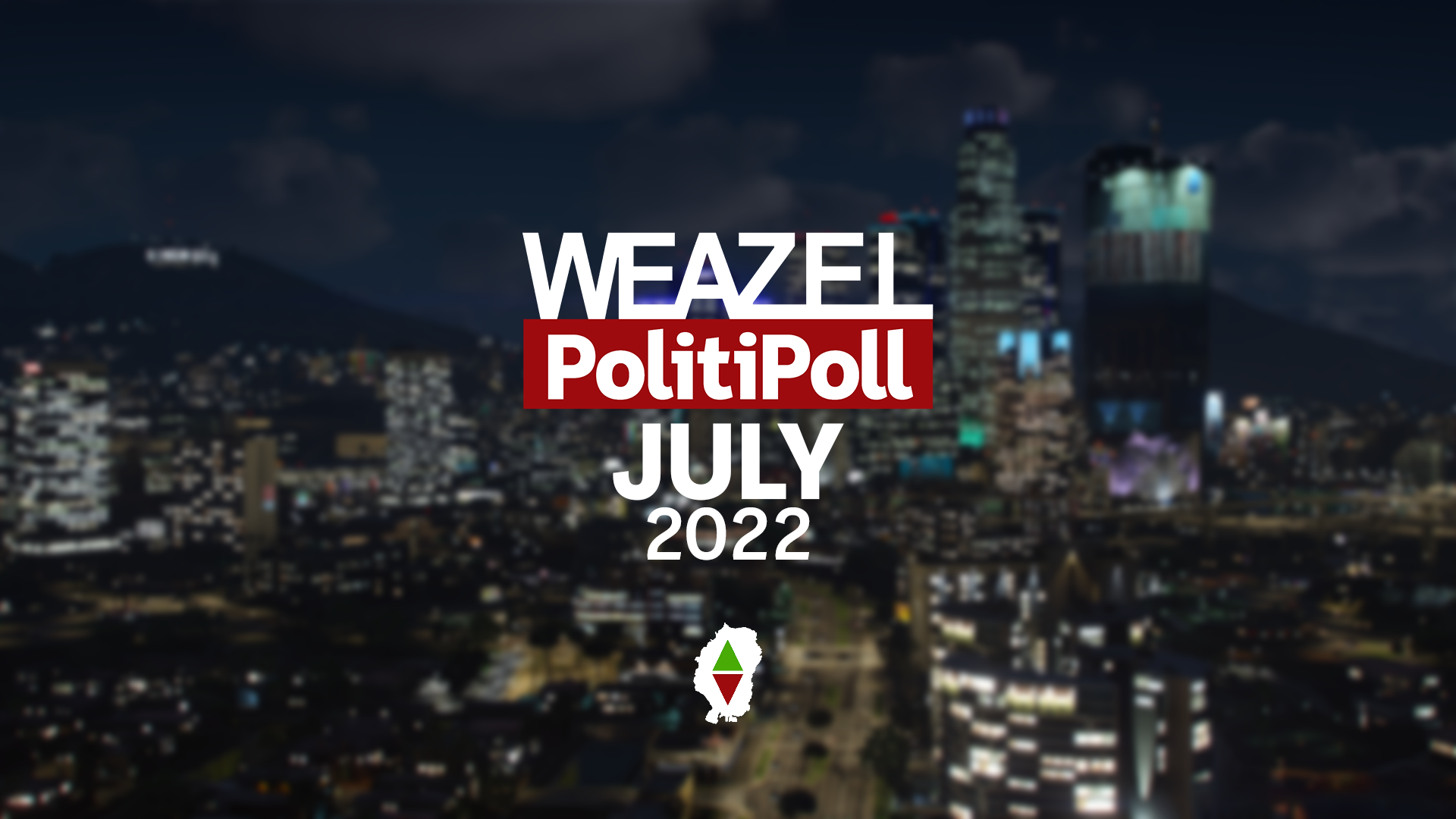 What a month it has been, from the greatest threat to this state's existence to an economic collapse orchestrated by that threat. We have somehow managed to ride the tidal wave of destruction and land on hopefully safer shores. This month we asked our readers the usual questions, and based on some of the answers people are beginning to move on from this crisis and look forward into the future with some optimism. However, the people of San Andreas are not taking everything for granted and as such more heavy criticism of the Government and its employees emerged in this polling.
Approval Ratings and Opinion Polling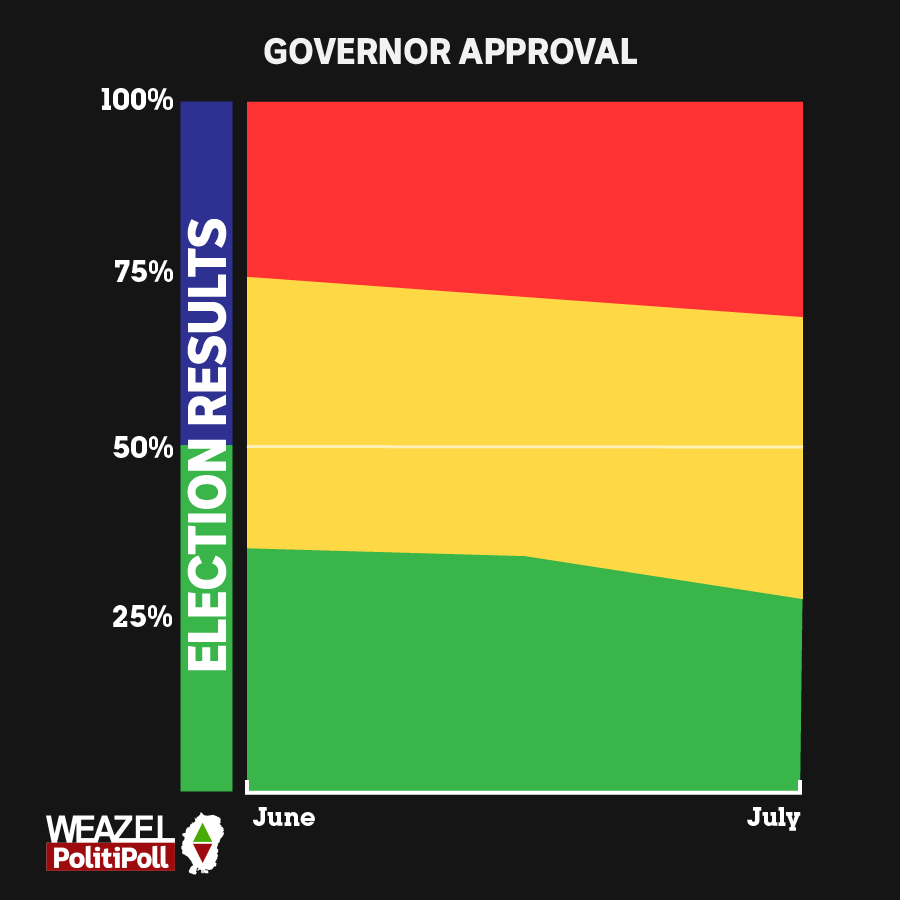 Governor Approval has declined from 35% to 28%, the third lowest approval rating on record. However, 40% are unsure on their standing about Governor McKenzie and 32% don't approve of the way the veteran politician is performing her job. 54% of McKenzie voters in the last state election approve while 27% disapprove of her work thus far. An overwhelming majority of people who didn't vote in the last election are undecided about the Governor. As we approach the next election, that is a large group of voters who could be persuaded either way. Only 11% of Dan White voters approve of the Governor, while 56% disapprove, and most Medlin voters are undecided.
The next election is due to take place in early September, with about a month to go before the nomination roll opens for candidates. There is still plenty of time for the government to start making radical changes to ensure it survives the election. With James Paxton announcing his resignation, this could allow the Governor and the Liberty Party to gain a majority in the Legislature. This would enable them to pass bills without amendment from other opposition parties.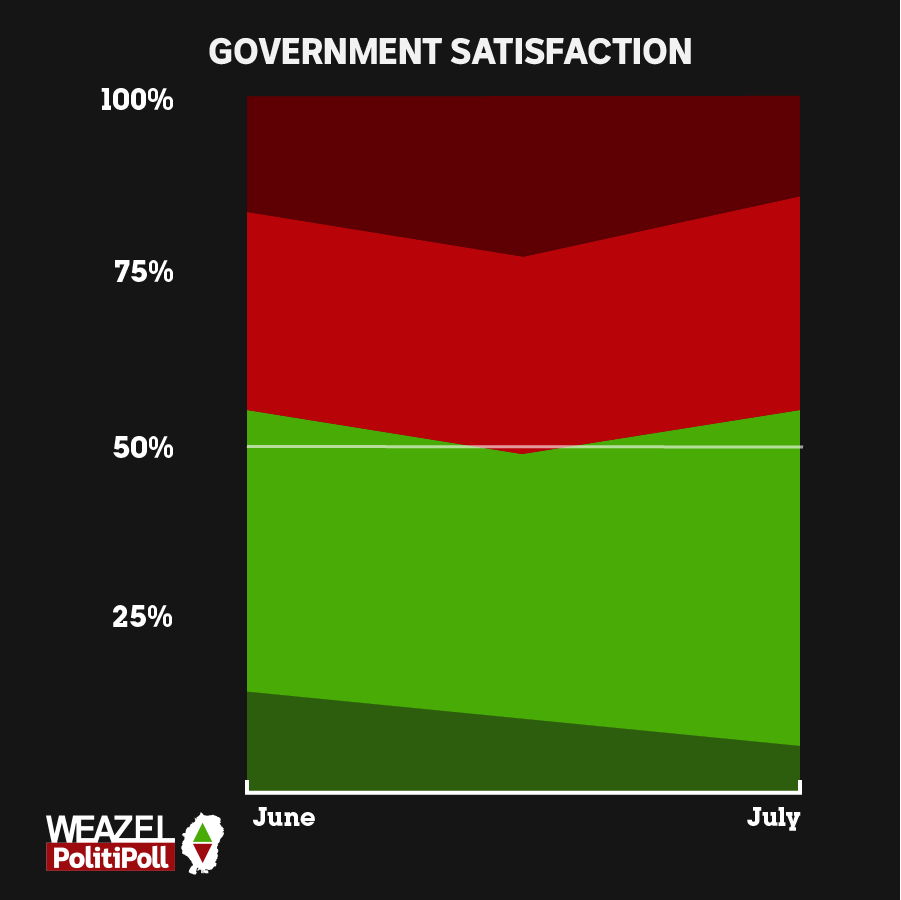 Overall Government Satisfaction hasn't increased at all; a slight decrease was recorded just before the Mutiny and Economic Crisis. However it looks like the government's response to the crisis has been enough to ensure at least 50% or more of the population are satisfied with how it's operating. However, this still leaves 31% unsatisfied and 15% very unsatisfied, with varying degrees of complaint. This is the second lowest result for people who are 'very satisfied'. There are various interpretations of this, but the main opinion is that the government is doing just enough with its latest economic package.
Did our Government do enough during the June Emergencies?
Overall, 64% of respondents said the government didn't do enough to help during the emergencies, while about 35% said the government's actions were sufficient. When broken down, the same results can be found for McKenzie voters with 63% unsatisfied. Even more concerning, 70% of Dan White and Alice Medlin voters believe the government had an insufficient response to this crisis.
Organized Crime and Our Response to it
Organized crime has become more visible over the past few months, with more and more incidents being reported. Some have suggested that laws should be introduced allowing Police to more thoroughly track gang members and their associates in order to crack down on violent crime. 53% of respondents agreed with implementing a system to track organized crime, while 42% disagreed.
Governmental Trust and Public Statements
Further analysis shows that the distrust in government has shifted amongst McKenzie voters with a majority now (54%) saying they don't trust the government. In comparison, last month it was only at 28%. Dan White voters strongly distrust the government with 80% lacking confidence in our elected representatives.
At the end of each poll, we ask respondents if they have an issue that the Government should address. The most prevalent topics include:
1. Merryweather and the Lieutenant Governor, as a Conflict of Interest
2. Increasing the number of State Representatives to seven
3. Congressional Committees and a transparent Treasury
4. Police and their response to certain crimes
5. Making the Governor's Office, Legislature and State Police available on the Freedom of Information Form
6. Government employees and potentially having access to more expensive/luxury items after the economic crisis
7. Debate on abolishing the Death Penalty
8. Alpha Mail driving and the increase of the Gig Economy work post-economic crisis