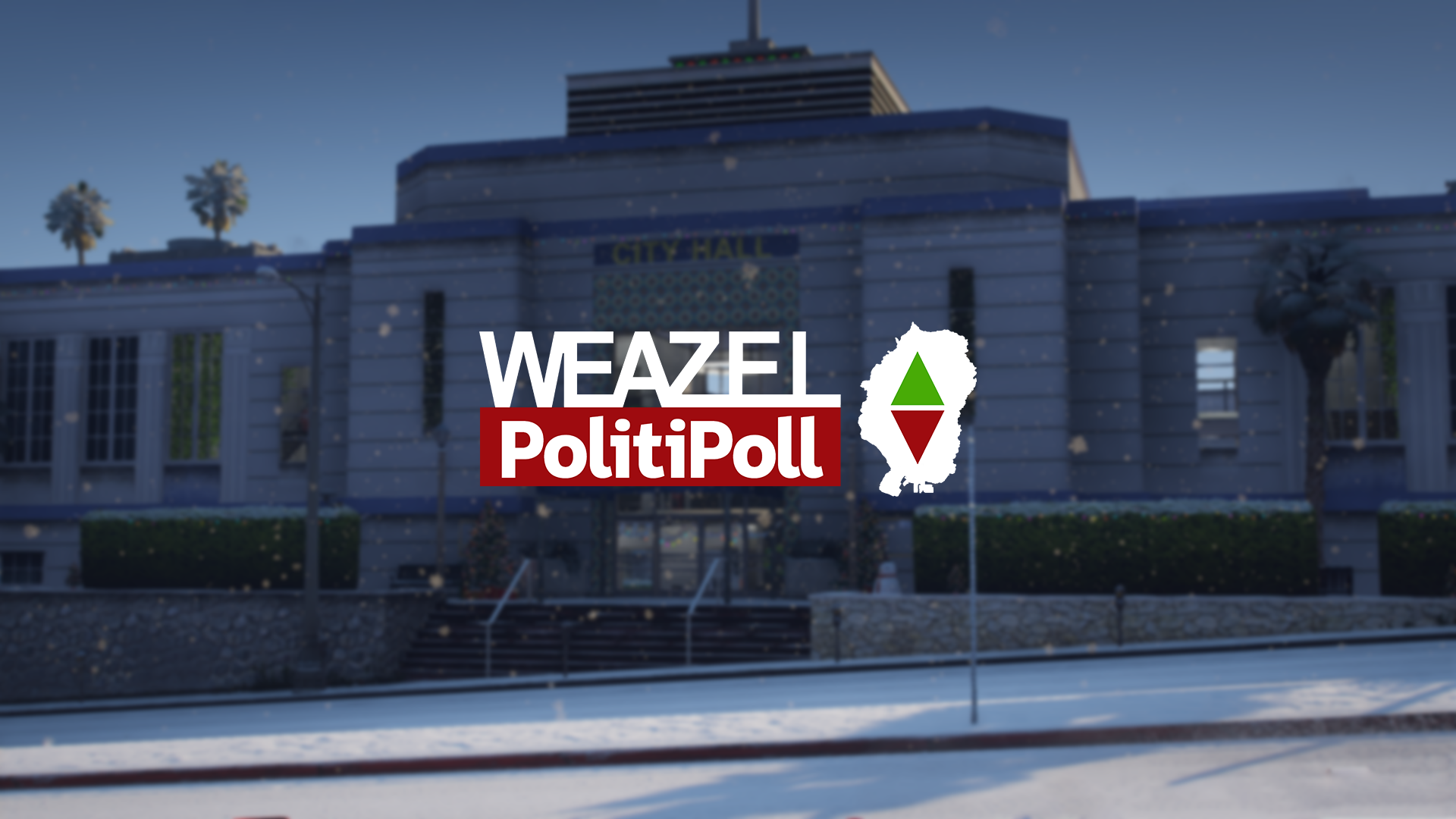 DEL PERRO (WZL) — During the final days of the general election, we conducted our Monthly Opinion poll in conjunction with the election polling. Let's take a look at how the public responded.
Governor Approval Ratings
This is the final approval rating for Governor Vlad Tod, who leaves office today with the inauguration of Governor-Elect Karmen McKenzie, who served as his Lieutenant Governor.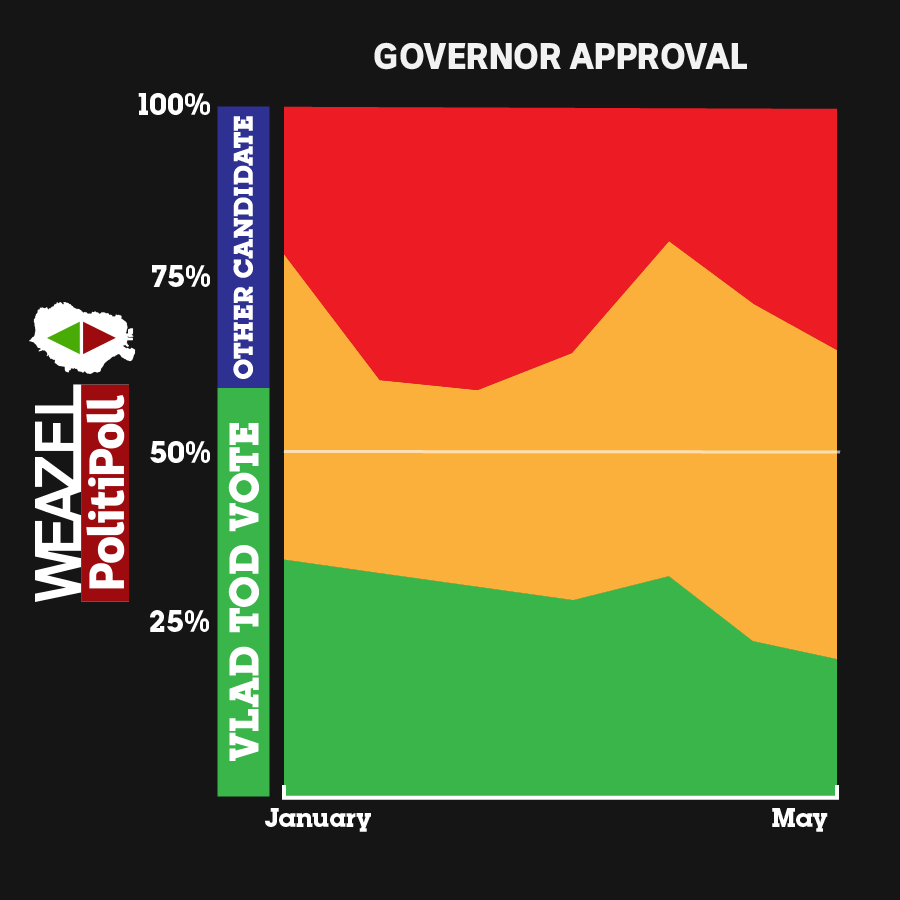 This month, we found that 19.8% of respondents approved of the Governor, while 35.2% disapproved and 45.1% were undecided. This represents an average of 28% approval and 31% disapproval over the whole term.
Government Satisfaction
Overall the government has seen fluctuating approval this term, from highs near 72% in early February all the way down to 37.9% in late March. Our latest results for May show 64.9% satisfaction with the government and 35.2% dissatisfaction, representing a significant rebound over the last month.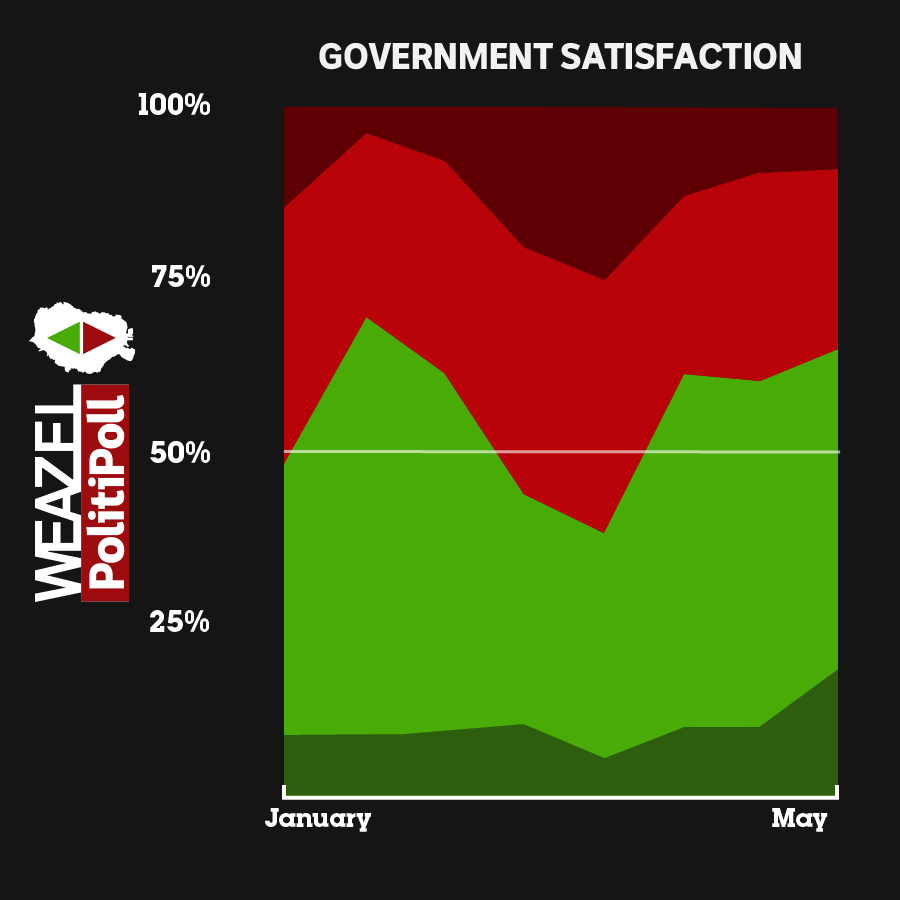 We can break the unsatisfied responses into a couple of groups:
People who are unhappy with the Government for various reasons

Unhappy with the performance of Representative Hudson Welsh (SALP), who did not recontest their seat at this last election
Unhappy with a specific department of the Government (Police, Medical, Legislature)
Government-Corruption believers, a somewhat large group of people who strongly believe that the government is overwhelmingly corrupt

People calling for more political accountability, with at least 20% of respondents commenting on this issue at some point
Housing concerns, with people trying to enter the real estate market finding barely any houses for sale
Spring Election Analysis
With the last election now finalized we have completed our analysis of the voting data and found some interesting results. Out of all the declared Vlad Tod voters in our poll, 45.5% preferred Dan White as their governor over Governor Tod's running mate Karmen McKenzie (with only 36.4%). Cole Gordon voters equally preferred Dan White and Karmen McKenzie as their first preference.
Voters who supported Karmen McKenzie and the Liberty Party seemed to prefer Progress Party legislative candidates over their own party's legislative candidates, with Progress Party candidates receiving more support from the Liberty Party than Representative-Elect Jericho Delmonta. Of course, the final tally showed strong support for both parties, with both Progress and Liberty landing two of the State Representative seats.
One clear trend emerged among Dan White voters, who supported Jordan Malone in droves with 40% of his polling preferences coming from that voting base.
Alice Medlin's supporters were very balanced in their selection of candidates, likely indicating they are beyond party politics or are less politically engaged.
Do you Trust your Government?
While satisfaction in government operations has risen to its highest point since early February, public trust has fallen to 35% with 50.6% of respondents saying they don't trust their government.
Do you agree with the content of HR 127, The Marriage Recognition Act?
65.9% expressed support for the bill and its content, while 29.4% expressed disapproval. The remaining respondents commented that it is a "non-issue".
Do you believe the Government should do more to lower the crime rate?
71.8% of respondents believe that the Government should do more, while 22.4% said current efforts were sufficient. Others commented about the establishment of the Department of Corrections and waiting for it to begin operations.
Do you believe the right to bear arms is overly regulated?
52.9% of respondents believe that the right to bear arms is overly regulated while 44.7% disagreed with that statement, leaving 2.4% undecided.