Blood Night Bouts Hosts "Commercial Anarchy" Fight Night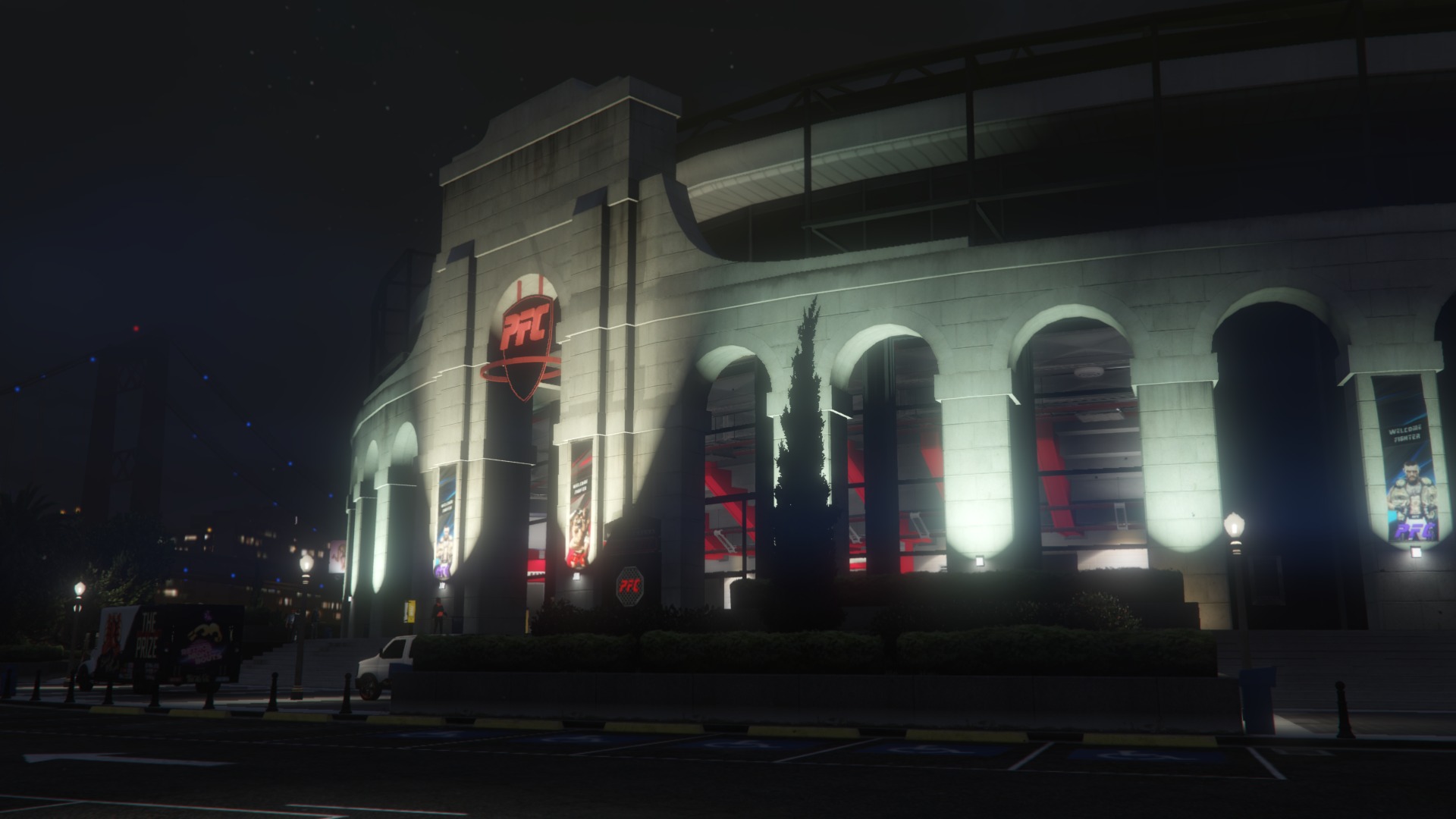 Written in collaboration with Executive Vice President Mickey Rivers of Weazel Corp. All photos by Billy Eagley.
Los Santos, San Andreas – Last night, Blood Night Bouts put on a event featuring businesses from around San Andreas, each with a fighter selected to represent them in an all out commercial brawl. The Weazel News team was there to chronicle the event; let's take a look at all the amazing shots!
The rules of the event were as follows:
All fighters must use the southpaw stance.
All rounds are "Best of 1" fights.
Fighters with byes in the first round must win a "Best of 3" fight, whereas their opponents (victors from the first round) must only beat them down once to emerge victorious.
It is illegal to hit a fighter while they're down; illegal strikes will result in a free hit from the opponent. Fighters will be split up after a free hit.
If you forget to be treated by EMS between fights, too bad.
Round One
Bout 1 was scheduled to be Bruisers Gym vs The Venetian, but the fighter from The Venetian didn't show, resulting in a Disqualification Victory for the Bruisers.
For the second bout, Ari's Deli faced off against Malone Modeling Agency. Ari's was representing by a current Champion, whom commentator Meryl Ford wished to challenge for his title. Delivering on his experience and pedigree, a knockout gave the victory to Ari's Deli.
Bout 3 featured Meryl Ford rising from the commentator's desk to represent Blood Night Bouts against The Hanging Gardens, whose own employees "had no idea" who their fighter was, a man allegedly named "Tim" who was knocked out by the event promoter herself.
Perhaps the most exciting fight of the first round was the fourth bout between Express Cabs and Auto Exotic. While Auto Exotic was represented by a seasoned Blood Night Bouts fighter, Express Cabs' representative put up an incredible performance, nearly pulling off the upset before a beautiful uppercut laid him flat for the KO, handing the victory to his opponent.
The fifth bout was canceled as Ronnie's Custom Choppers advanced due to a no-show disqualification of their opponent, Kisama Convenience
Hardcore Comic Store faced off against Pearl's Seafood Restaurant in the sixth bout. The power of Pearl's fighter nearly ended the fight, but Sane Terrace, Hardcore manager and amateur fighter, put his superior speed to good use and managed to land a knockout blow.
In a bout similar to the previous one, Cream Pie's fighter showed incredible evasive speed, managing to dodge a high percentage of the blows from their Shadowcade opponent. However, evasion doesn't win fights, and they never managed to launch a counter-offensive before being overwhelmed and taken to the ground for a KO.
The eighth bout was the most evenly-matched of the entire night, by a wide margin. CNT and Black Uber went toe to toe on the mat, exchanging blows until an incredible finish that resulted in a simultaneous knockout!
Fight promoter Meryl Ford declared the fight a draw and announced a restart to the fight. Each fighter gave it everything they had, with an intense second round leading to a Black Uber knockout victory.
Bout 9 featured fighters from Tequi-La-La and Reese's Pizza, after some brief ringside confusion. Three employees of the Vinewood pizza shop thought they were going to be fighting, but the owner himself, Zander Reese, stepped in to defend their collective honor.
Both fighters gave it their all, but Mr. Reese hit harder, coming away with the knockout victory. This was the final bout of the first round, as Bohan T&M advanced due to the absence of a fighter to represent Shoeman Law Firm.
Round Two
In the first bout of the second round, Bruisers Gym took on Beachside Billiards, whose fighter entered with a robe and cigar after sitting out Round One on a bye. The rest did little good, however, as the warmed up fighter from Bruisers Gym landed a knockout blow to move on yet again.
Meryl Ford got her wish in the second bout, facing off against prior Blood Night Bouts champion Miguel from Ari's Deli. The event host wasted no time in this high profile fight, pinning Miguel against the octagon in a nasty fall as seen above. Ms. Ford walked away with a knockout victory as she added another feather in her veteran cap.
Another fighter coming off a first round bye was the red-and-black Bento representative. His colleagues rallied loudly from the audience as he talked trash and hyped up the intensity of the third bout. He started very well, managing to take down the Auto Exotic fighter in the first of three victories that would be needed according to the event rules.
However, this confidence didn't carry through to an overall victory, as Auto Exotic managed to down their opponent the second time around and walk away with the victory.
Bout 4 featured two well-rested fighters, with Pipe Down's representative Tyler coming off a bye while Ronnie's Custom Choppers were granted a disqualification victory after Kisama Convenience failed to show. Despite a good start to the fight, it seems Tyler's pink shark slippers may not have been the best choice in the ring. A nasty slip carried his momentum into the cage, knocking out the fighter from Pipe Down and handing Ronnie's the victory.
The fifth bout featured another fighter with a bye, this one representing Rockford Records. His opponent, Sane Terrace, picked up where he left off in Round One with fast footwork and hard hitting strikes. Rockford's fighter impressed the crowd by repeatedly knocking down his opponent representing Hardcore Comic Store. However, Mr. Terrace kept getting back up, using his incredible evasive maneuvers to avoid the hardest hits and eventually coming away with a knockout blow of his own to win the fight.
Bout 6 was a standout fight of the second round, with two great fighters representing Black Uber and Shadowcade. In between trading blows, both fighters felt the urge to hop the cage and grandstand for the crowd multiple times throughout the fight. However, a member of the crowd heckled Black Uber's fighter, "G", calling his gold chain "fake". This may have distracted the fighter, who ended up being knocked out by his opponent, handing Shadowcade the victory. After being seen by medical staff, "G" was seen searching the audience in an attempt to identify his heckler.
The seventh bout proved that the trend may become a rule; yet again, a fighter with a bye went down in Round 2. This time, Zander Reese of Blood Night Bouts came in with more of the fire he showed in his first fight, taking down his opponent from Sunrise Beach Club with another KO.
For the final bout of the second round, Bohan T&M's fighter "Vinewood Baby" put on a clinic with her unique fighting style. Not only can she rock her opponents with a hard straight right (shown above), but she's extremely light on her feet, evading shots to the point of opponents finding her on the opposite side of the cage when they go to make a strike. SecuroServ's fighter "Atticus" was unable to keep up, going down by KO.
Round Three
With just eight fighters remaining, Blood Night Bout's own Meryl Ford found herself with the unfortunate challenge of facing back to back champions from her own league. Despite having been through a brutal fight in the previous round, Ms. Ford put up a hell of a fight against the champion from Bruisers Gym. However, she fell just short as a brutal knockout blow put her down on the mat and ended her chances at a championship run.
The second fight of Round 3 was perhaps more hotly contested by the fans than the fighters themselves. With two repair shops facing off head to head, bikers and car fanatics alike crowded around the octagon to cheer on Auto Exotic and Ronnie's Custom Choppers. One heckler even tried to make a bet with the fighter from Ronnie's, saying "If you lose, you gotta drive a car for the rest of the week!" Unfortunately for Auto Exotic fans, this seemed to light a fire under him, and he managed to pull off a knockout victory to the roar of bikers in the audience.
Bout 3 was just as closely-matched, another crowd-pleaser for sure. Nerds in the audience rejoiced as Hardcore Comic Store went head to head against Shadowcade, trading major knockdown blows and dodging fight-ending haymakers. Sane Terrace was the last nerd standing, winning by knockout.
The fourth and final fight of Round Three featured the fiery Zander Reese against "Vinewood Baby". Once again, Bohan T&M's fighter showcased her unique style, utilizing the full width of the Octagon and even hopping the cage multiple times. The Reese's Pizza owner held his own until a turning point where he exposed his back to his opponent's fast footwork, going down by KO.
Round Four
The semifinals brought the event down to four fighters, with the first bout featuring Bruisers Gym against Ronnie's Custom Choppers. With the event already approaching its three-hour time limit, both men went at it fast and hard in an attempt to beat the clock. The champion for Bruisers Gym walked away with his fourth straight knockout, moving on to the finals.
The decider bout for the second finalist came down to two highly evasive fighters from Bohan T&M and Hardcore Comic Store. With time of the essence, however, they both had to step out of their comfort zone with a more aggressive attack. "Vinewood Baby" managed to land a great knockout blow to the stomach of Sane Terrace, clinching her spot in the finals.
Round Five
The Grand Final took place next, but we'll save the best for last. For now, let's move on to the last fight of the evening, the third place bout between Ronnie's Custom Choppers and Hardcore Comic Store. There was still much on the line for these two fighters, with the winner claiming a $15,000 prize for the business they represented. With just three minutes left on the event clock, both fighters went at it in a flurry of blows that dished out far more punishment than the audience thought possible. With just thirty seconds left before security would clear the building, Ronnie's fighter finally landed a knockout blow to take third place!
The Championship Fight featured two very different fighters vying for a $50,000 prize. Bruisers Gym was, of course, represented by their champion veteran of Blood Night Bouts, while Bohan T&M's "Vinewood Baby" had surprised the crowd with her tactics. However, with the clock continuing to tick down at that point, the inability to play a more passive strategy turned against Bohan's fighter. The more experienced fighter was able to go in for hit after hit, eventually landing the KO to take the Grand Prize! "Vinewood Baby" should be proud of her performance, however, walking away with $30,000 for her team.
What an incredible event this turned out to be, with 18 businesses showing up to present a fighter for "Commercial Anarchy". Great commentary by Blood Night Bouts host Meryl Ford and her co-commentator Dan White kept the audience on the edge of their seats for every bout, with an incredible display of fighting ability from veterans and amateurs alike. If there's one thing the crowd learned that night, it's that everything changes once you step inside the octagon. The only way out at that point is down on the mat or with your fists raised in victory!